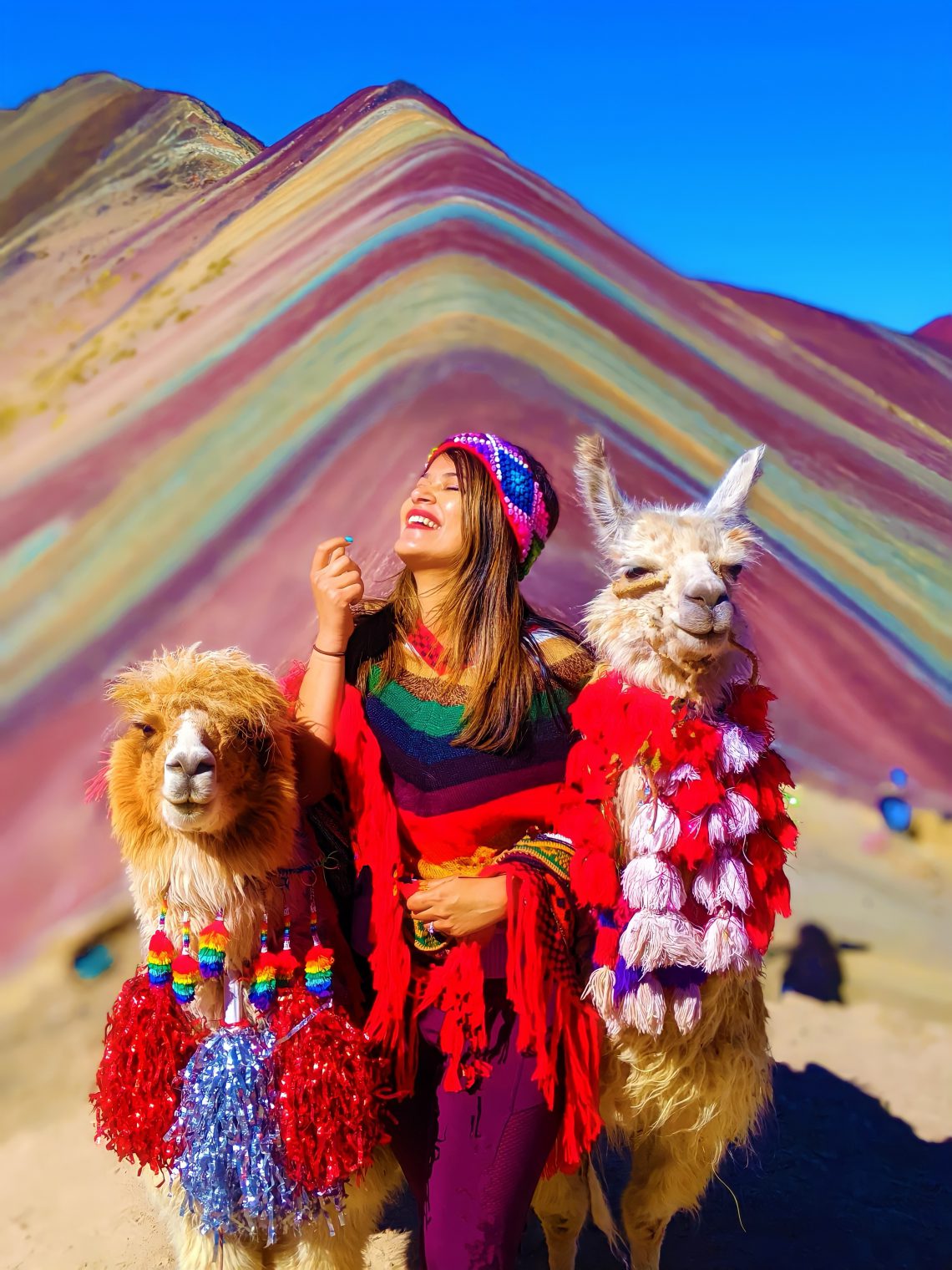 One Week in Peru
October 11, 2021
When we think of South America, Peru is one of the top destinations that comes to our minds. The country is so rich in history, culture and traditions. But did I tell you that there's so much more than just Machu Picchu? Let's dive in!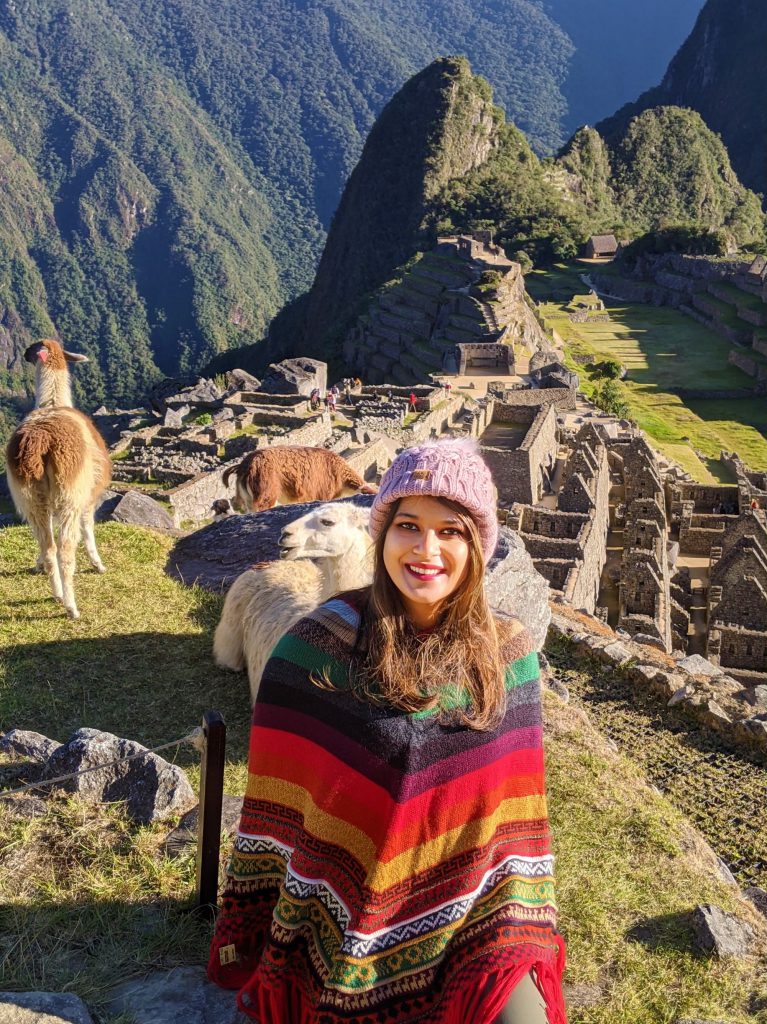 We traveled to Peru in July 2021 when it just started to open up for tourism post COVID-19. It was not very touristy when we visited since International travel was still considered a bit risky. We got our vaccination and booked our tickets to Peru since it had been on our bucket-list for years by then.
ENTRY REQUIREMENTS
You need a COVID test no more than 72 hours before your flight. Find latest information here if you are traveling from the US.
You will need to fill out a health affidavit prior to reaching Peru.
Your visa really depends on the country of your citizenship. Since I'm an American citizen, I did not have any visa requirements to enter Peru. Do check yours on their embassy website.
BEST SEASON TO VISIT
Peru has only two seasons – dry season and rainy season. The dry season is from May to September and the wet season is from December to March. The dry season is very touristy for obvious reasons. We visited Peru in early July and I can assure that the weather was simply fabulous.
THINGS TO CONSIDER
The Cusco expedition involves a lot of altitude changes. This means at some point you might suffer from altitude sickness. Do not over-stress yourself and take it easy when you hike. If you get a horrible headache, take some pain killer.
Keep your belongings safely. You need to be a little cautious in certain parts of Peru.
Learn basic Spanish to easily get around. You will find people who know English in big hotels but once you are out in local market, you will only find people who know Spanish.
Travel light! Keep expensive items at home and only get things you really need.

Comfortable shoes
Sunscreen
Rain jacket
Light jacket
Sweater
Beanie
Athletic wear for days you will be hiking
Pain killers and basic medicine

Pre-book train and entry to Machu Picchu in advance. During peak seasons, they are sold out way in advance.
You will not be renting a car in Peru. You will have to book local tours.
HOTELS
We stayed at the Marriott for the most parts since we have a Bonvoy membership.
Lima – JW Marriott Hotel Lima

This hotel is situated in the most posh location of Lima, Miraflores. The hotel is literally by the marine drive and super luxurious. The entire neighborhood is very safe and you can literally walk around the hotel without any issues.

Cusco – Palacio del Inka

This hotel is owned by Marriott and is totally palace-like. The rooms are super luxurious with full royal feels. The in-house restaurant serves very delish food.

Agua Calientes – Sumaq Hotel

This is hands down the best hotel at the base of Machu Picchu in Agua Calientes.
7 days in Peru
Lima is the capital city of Peru. If you are an international traveler, you will most likely enter and exit through Lima. Once you land and get immigrated, you can book a local taxi service right outside the baggage claim to take you to your hotel.
Day 1
Get over the jetlag and explore Miraflores neighborhood in Lima
Lima is a perfect 1-2 days stop to relax before all the crazy expeditions begin. We stayed at the Marriott here and this is one of the safest and upscale neighborhoods in Lima. Most properties here are facing the ocean and has exclusive shopping malls and affluent neighborhood. While you are here definitely visit the Park of Love and Kennedy Park.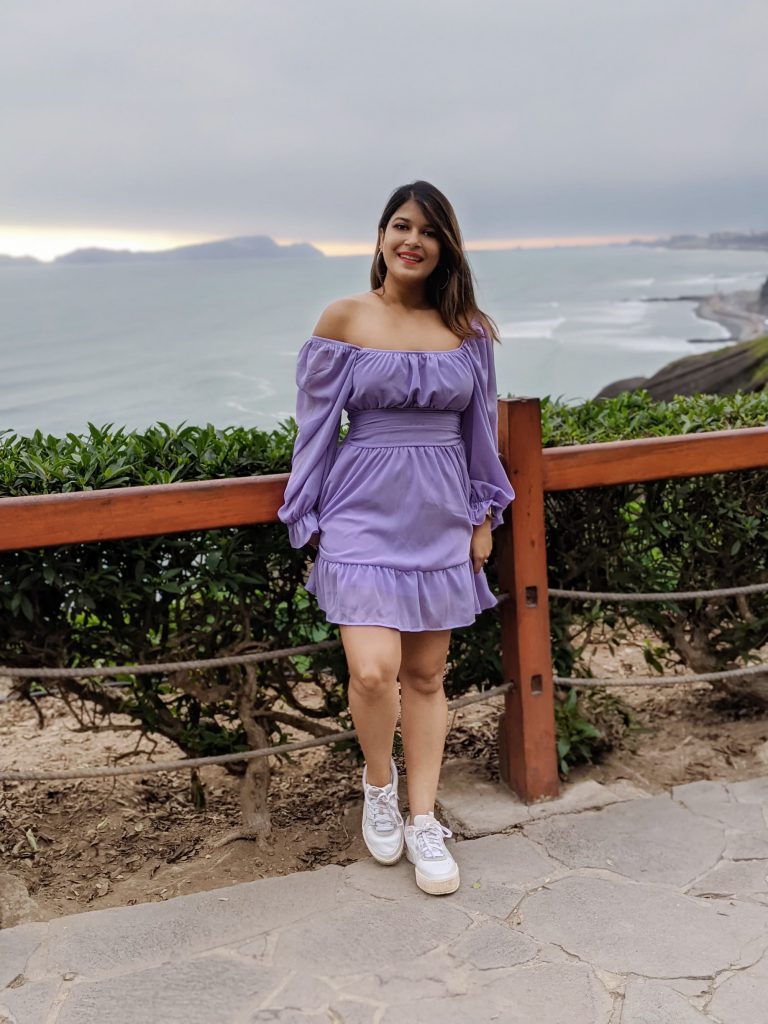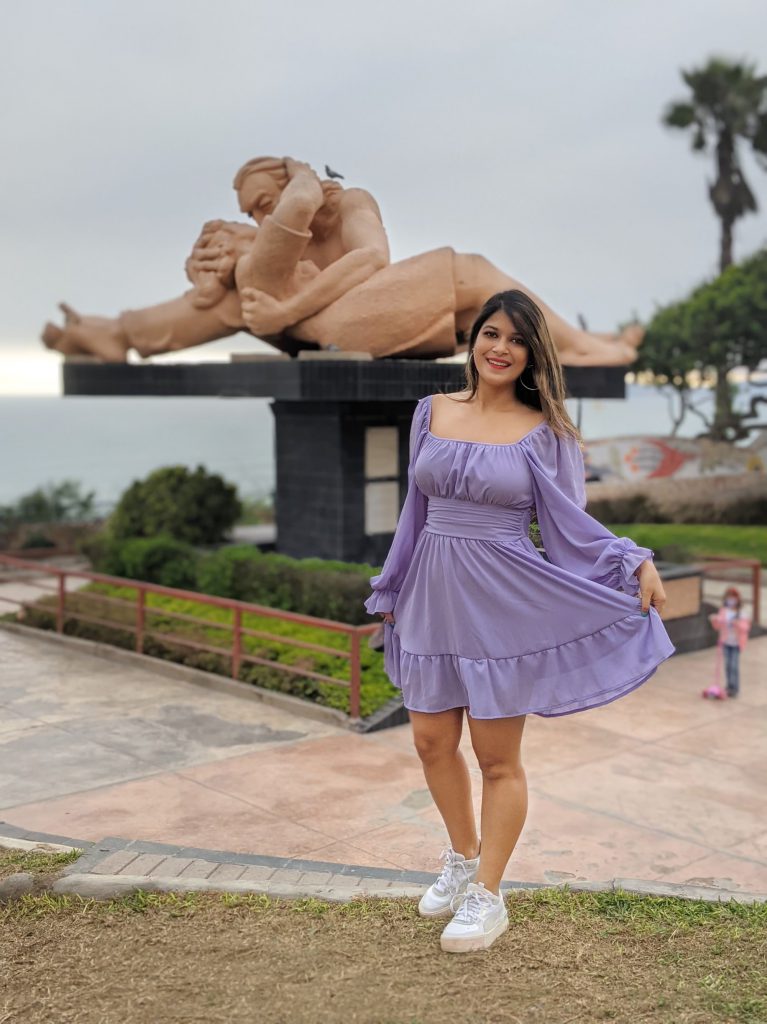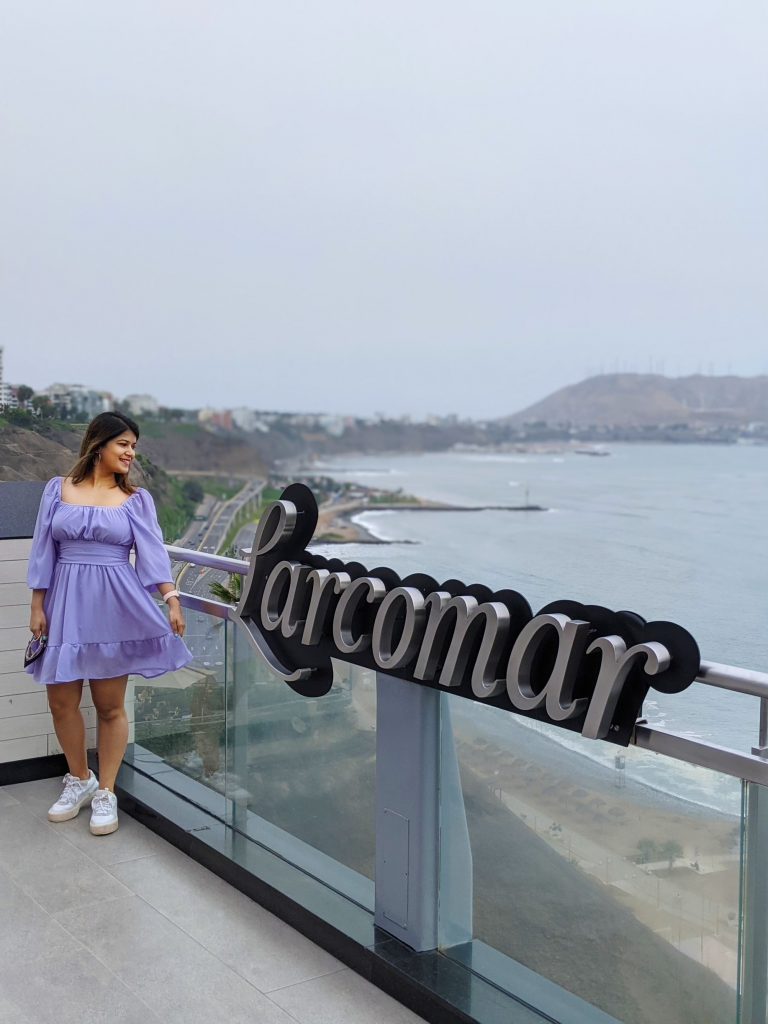 Day 2
Explore more of Lima
Lima has a lot to explore if you wanted to. Many people head out to Cusco on the second day, but we wanted to explore this food capital a little bit more and explore some off-beat areas of the city.
Huaca Pucllana – This site predates Incas by 4000 years. The whole site is built of hand made clay bricks which is set up vertically. These clay pyramids are extremely unique making it super worth it to visit.
Barranco – This place has the most romantic and bohemian vibes. It's the home to many of the Peru's leading artists, musicians and photographers. The entire alleys are filled with graffiti making this place a perfect photo op. The vibes are super nice and this should be on top of your list when you visit.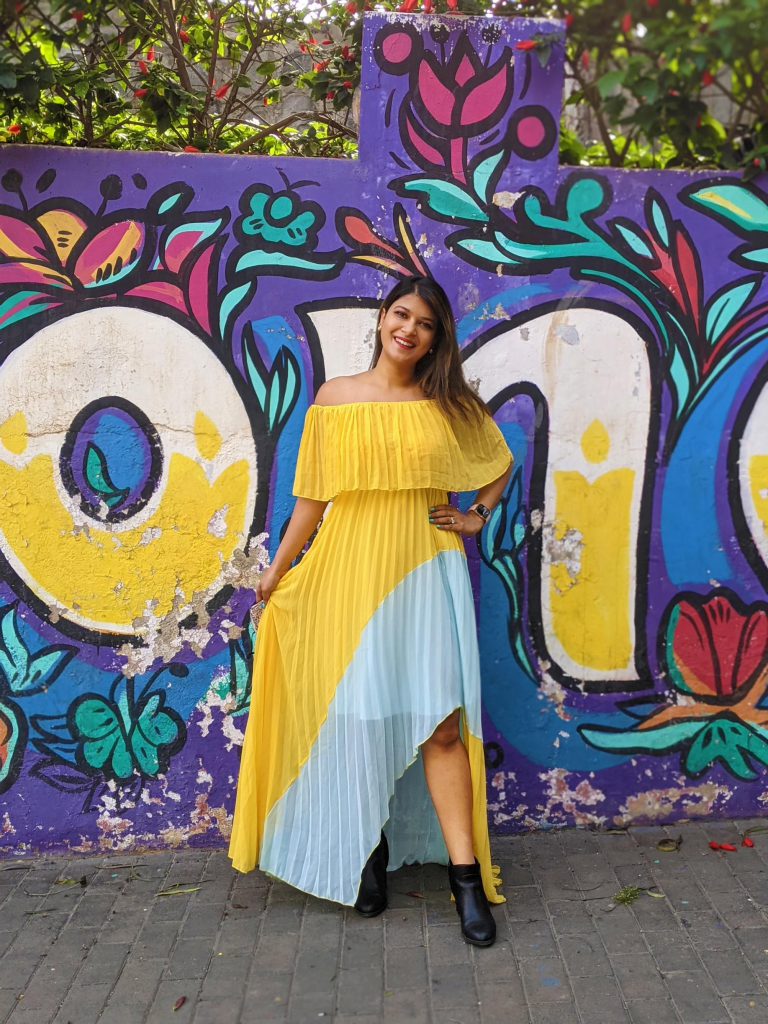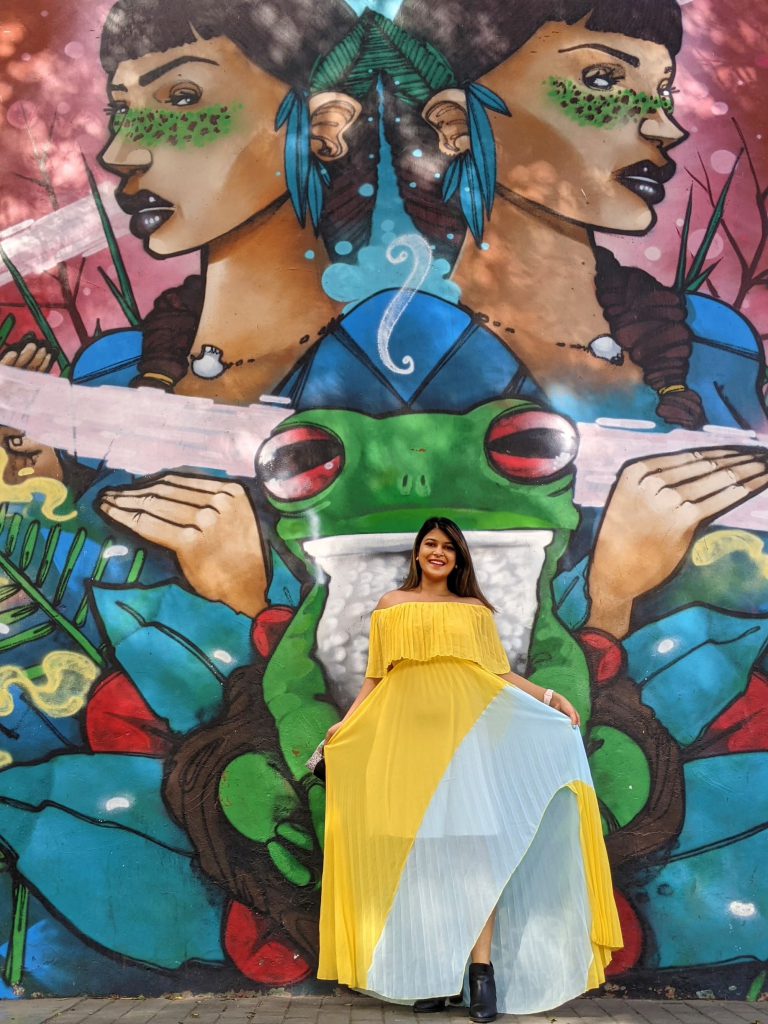 Cercado De Lima – This is more of the historical side of Lima. It's located in the city center (you know where it got its name from) and is one of the top tourist destinations. It's a world heritage site for its origins and historical monuments constructed in the time of Spanish empire.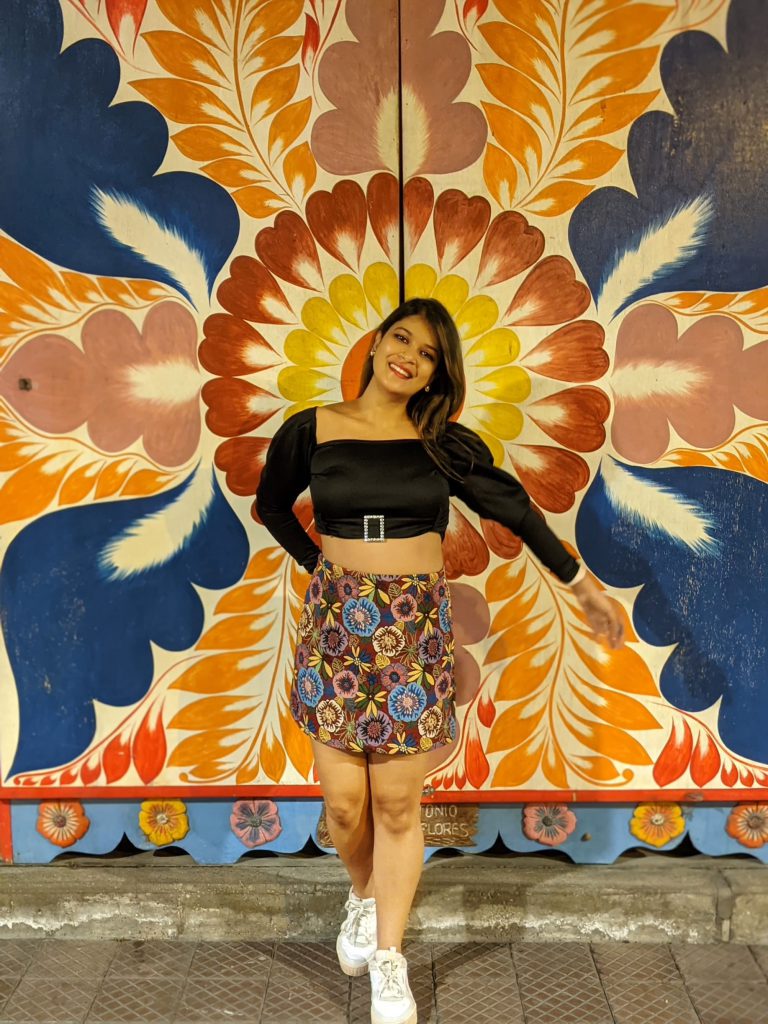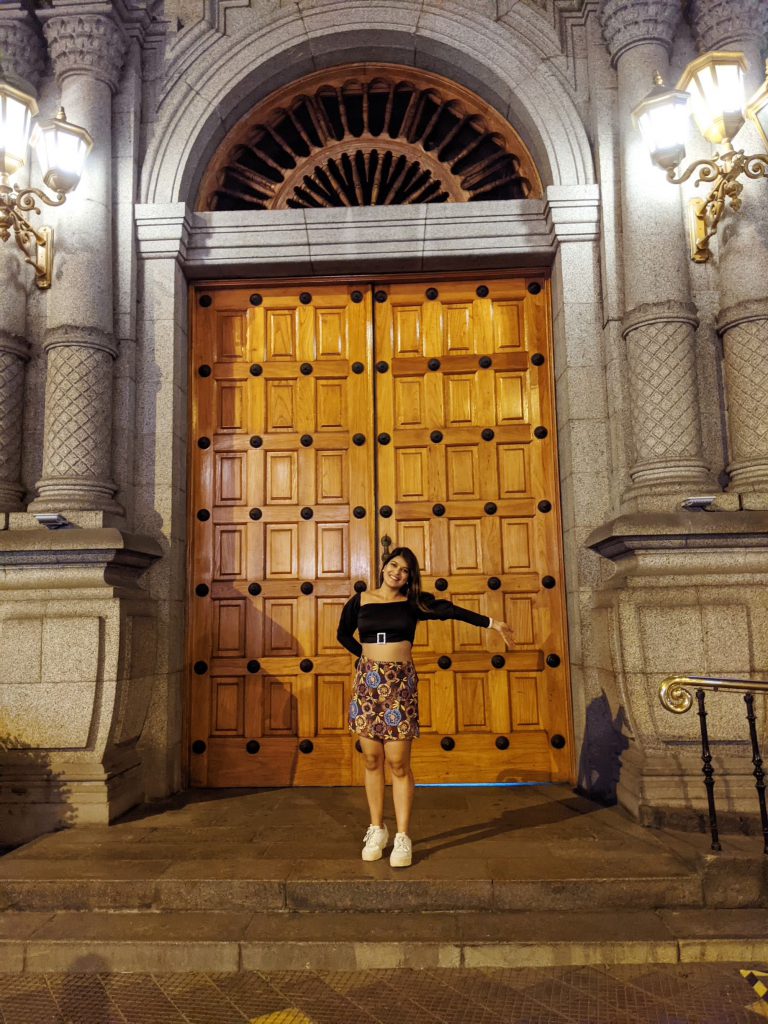 Day 3
Fly to Cusco and get acclimated to the altitude
This is the main hub that gets you to Machu Picchu, Sacred Valley, Rainbow mountains and you name it – every single expedition starts from this city. There are direct flights from Lima to Cusco, so there's nothing to worry….except the flight lands at 11,000 feet (3300 meter) elevation, an hour after take off from Lima.
Yes, you will be able to spot alpacas (South American camelid) in Cusco and probably be able to hold a baby alpaca too. They are soft, cute and adorable.
There's tons of indigenous folks you will find just strolling around in Cusco. If you want a picture with them, you will have to tip them as their means of income are tourism, agriculture and producing local goods.
The altitude sickness is a real thing. I'd suggest take a regular headache medicine or the coca leaves
candies that honestly did the magic for me.
Cusco is the center of all the expeditions around Machu Picchu. You can book all the local expeditions from Cusco. No kidding, except Machu Picchu, we booked next day tours for Sacred Valley and Rainbow Mountain from the central market in Cusco. We only did this because we weren't sure if we will be able to do all the tours if we booked in advance, given altitude sickness is real.
Pro tip: Carry sunscreen and moisturizer at all times.
Cusco has all kinds of food to fit your preference.
While you are here getting acclimated to the altitude, checkout the San Pedro market, Inca museum, beautiful churches and Plaza de Armas.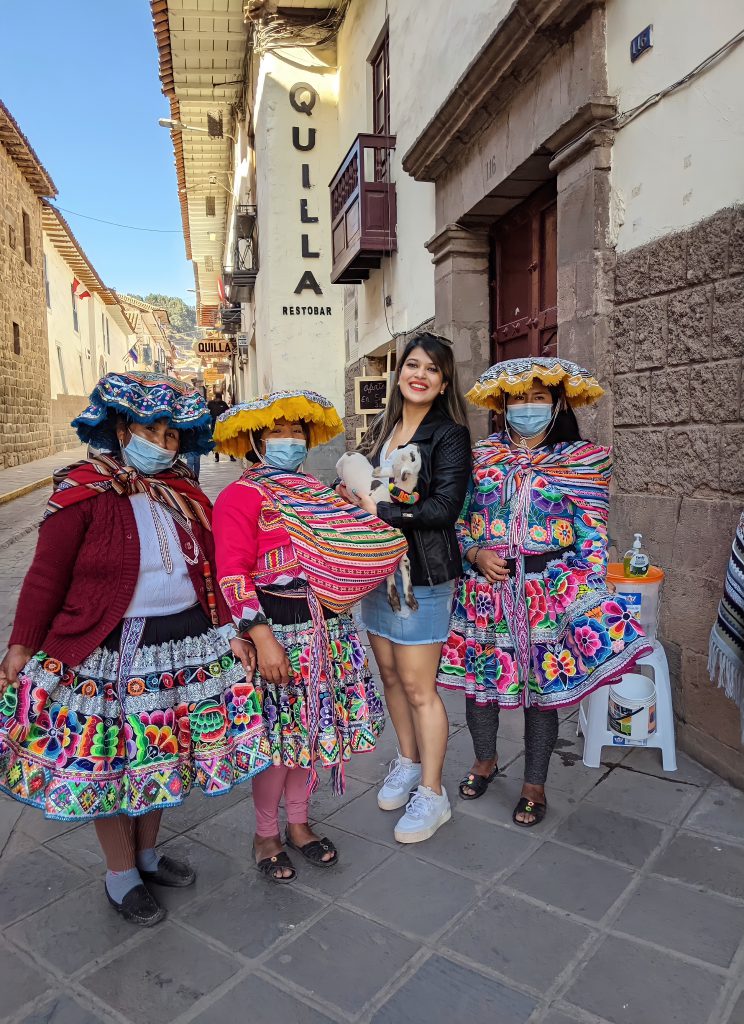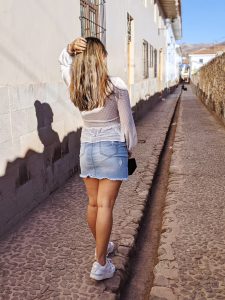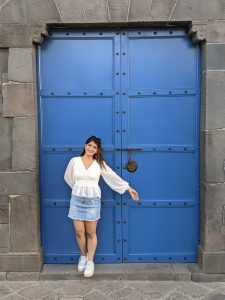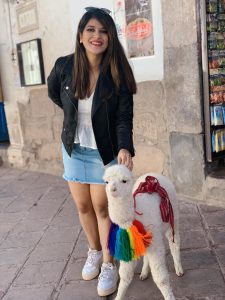 Cusco by the night will take you by surprise. It's super hard to imagine night-life at 11,000 feet. Cusco had amazing food options and vibes. It's full of international tourists and full of cute local markets that sell local goods. If altitude sickness was not a thing, you could spend days here.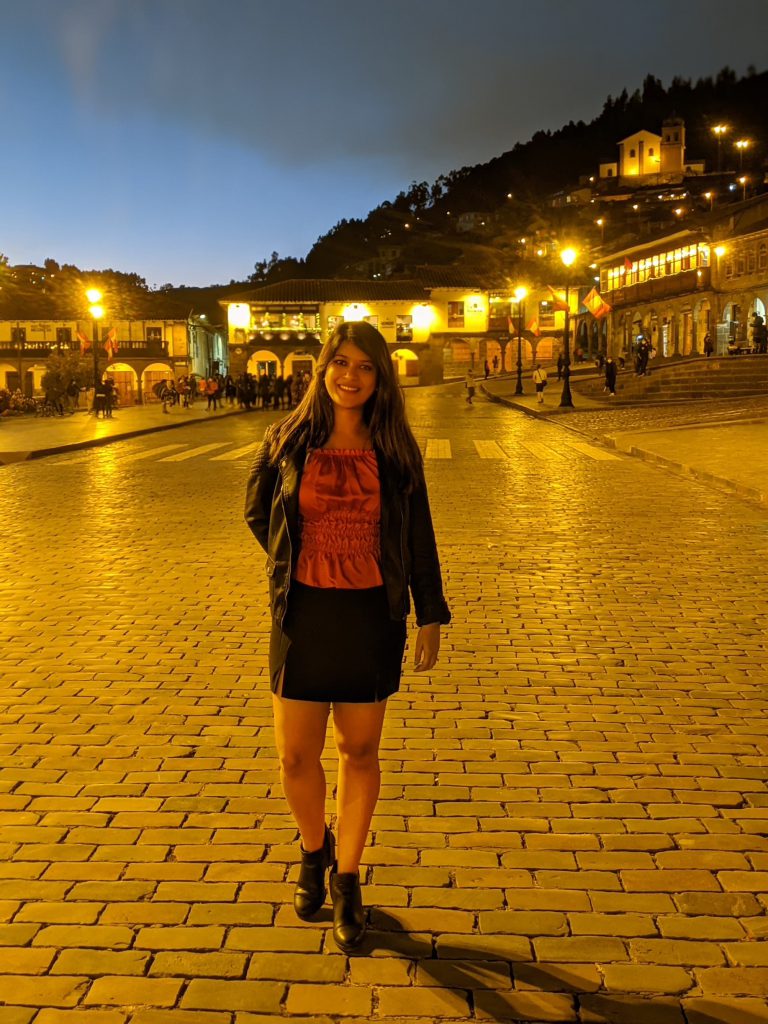 Day 4
Do the Sacred Valley tour and take the train to Agua Calientes
You can buy the Sacred Valley tour in advance or from the local market. If you traveling post COVID times or in peak season, then probably buying in advance makes sense. We wanted to control our trip and see how we did with the altitude sickness, so we did not book this tour in advance. There are tons of vendors in Cusco main square and you can book it with any of them. They all leave at 5 AM in the morning and drop you off in the evening.
Also known as "Valle Sagrado de Los Incas", the sacred valley tour consists of Chinchero, Moroy, Maras salt mines, Ollantaytambo (The Sacred Valley) and Pisac.
CHINCHERO
The first stop in this tour is Chinchero. It's a small village between Cusco and Urubamba. It's higher than Cusco, sitting at 12,500 feet. It is full of local market, selling local products. If you want to sport a Peruvian Poncho in your pictures, then this is where you should buy it from. Women wearing traditional Peruvian outfits and giving a talk on the culture and life is also going to be a part of the tour. They serve you with warm tea as a welcome and spend time portraying their Incas culture and traditions.
MOROY
This archaeological site in Peru is about 31 miles (50km) from Cusco at 11,500 feet. This is an extraordinary Inca ruin created as several circular depressions, the largest being 98 feet deep. It has a legit irrigation system.
While the purpose of the shape and depression is unknown, the design and orientation with respect to wind and sun creates a temperature difference of 15 degree celcius (27 degree F) between the top and bottom. Isn't that super cool?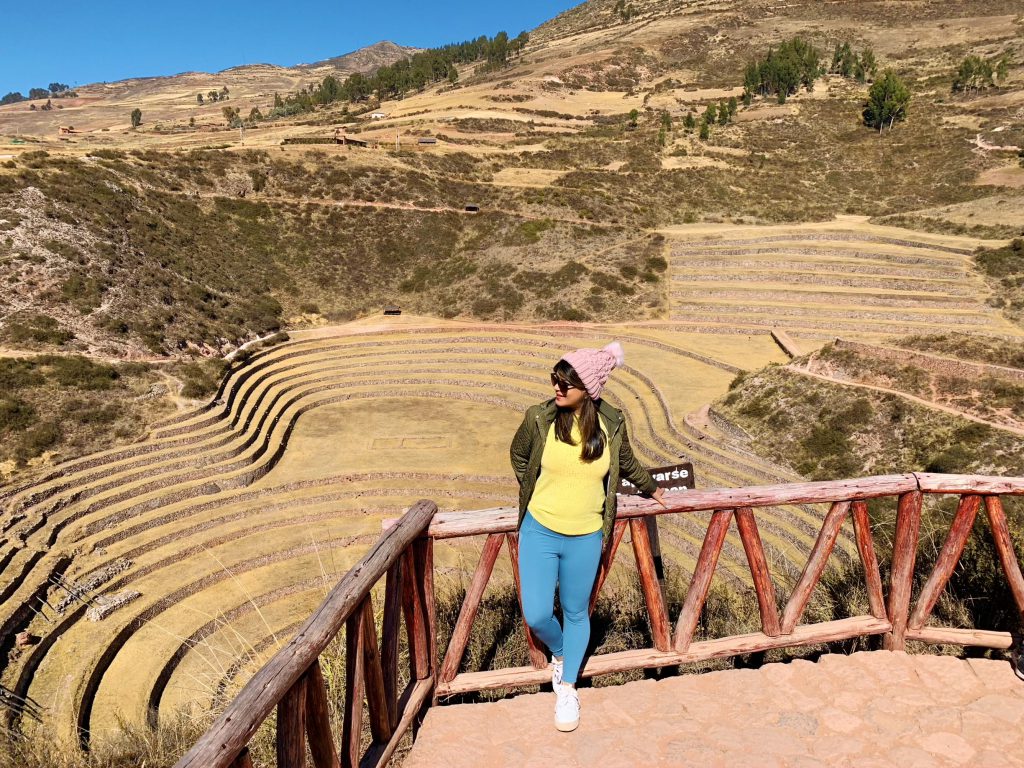 MARAS SALT MINES
If it just me, or this does look like another planet? Fun observation, if you take out the second "a" from Maras, it becomes "Mars". And no joke, this did seem extraterrestrial.
Known as "Salineras de Maras", is one of the most incredible adventures of the Sacred Valley of the Incas tour.
It's made up of more than 6000 natural salt wells near the town of Maras.
Each well has a dimension of 13 square feet and less than 1 foot deep.
The thousands of natural salt well is actually fed by an subterranian natural spring. This spring originated more than 110 years ago during the formation of Andes mountain.
These salt pans have been in operation for more than 500 years.
It's completely owned by the local families as they take pride in their "pink salt".
The creation of the salt mines predates the Incas, but Incas saw this as an economic opportunity and expanded it further up the mountain side.
This salt is only sold locally, so when you are there, make sure to support the local business and buy some. We did too!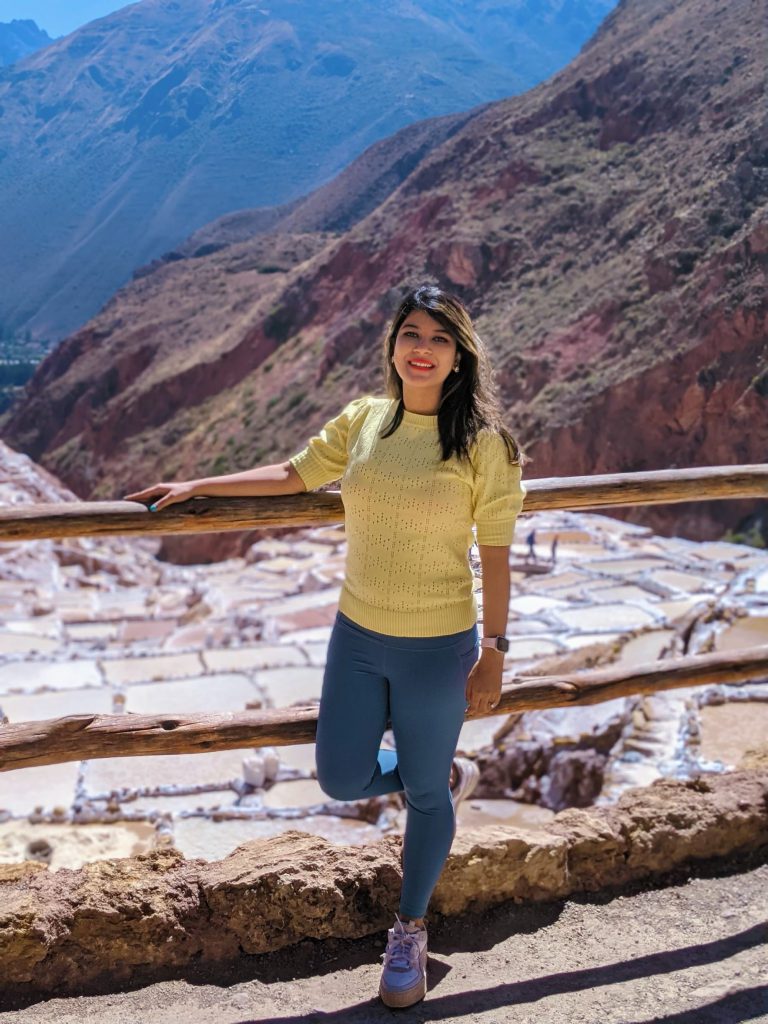 OLLANTAYTAMBO (THE SACRED VALLEY)
The Incas ruled this area until the arrival of Spanish.
The Incas specifically chose the Sacred Valley because it's lower, warmer and a perfect spot for agriculture for growing maize. Urubamba river keeps the land fertile.
If Andean traditions such as agriculture, weaving and sharing moments with various communities that live together and grow potatoes intrigues you, this is a must visit.
The entire valley has great views of snow capped mountains, deep blue lakes, and flowering meadows guarded by many of their spiritual temples.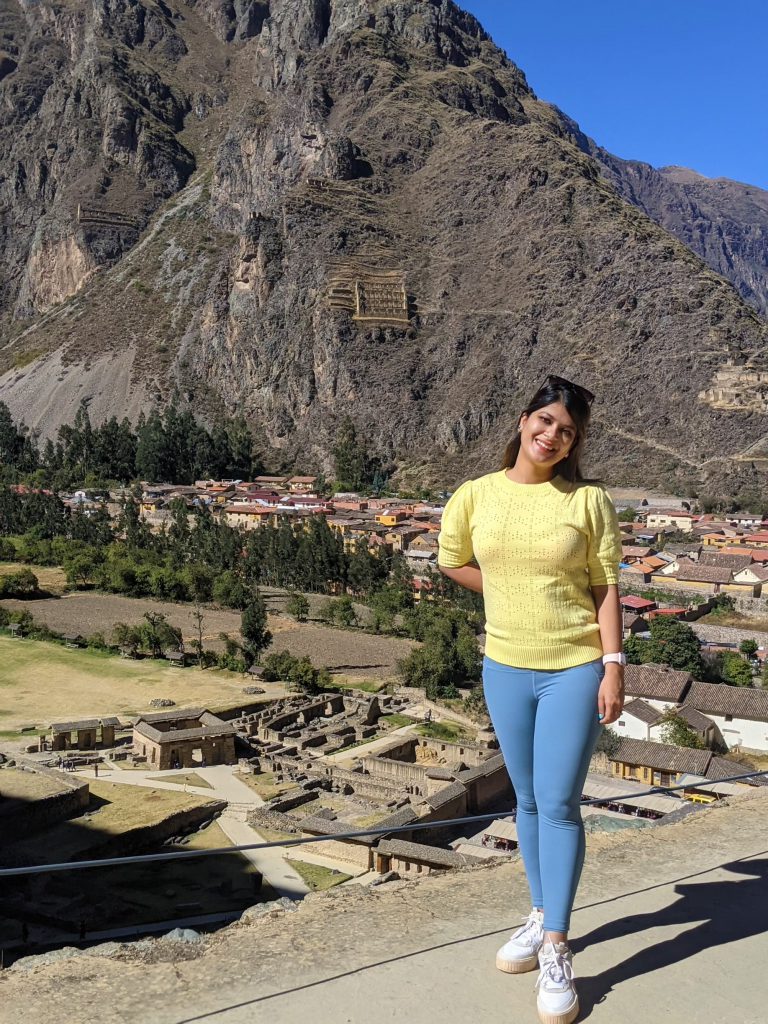 We asked the tour guide to drop us off at the train station here and caught the train to Agua Calientes.
Day 5
Explore Machu Picchu
Let's talk about all the details of this Wonder of the World! If you are short on time and cannot do the 4 days/3 nights hike known as the famous Inca trail to Machu Picchu, then this information is for you.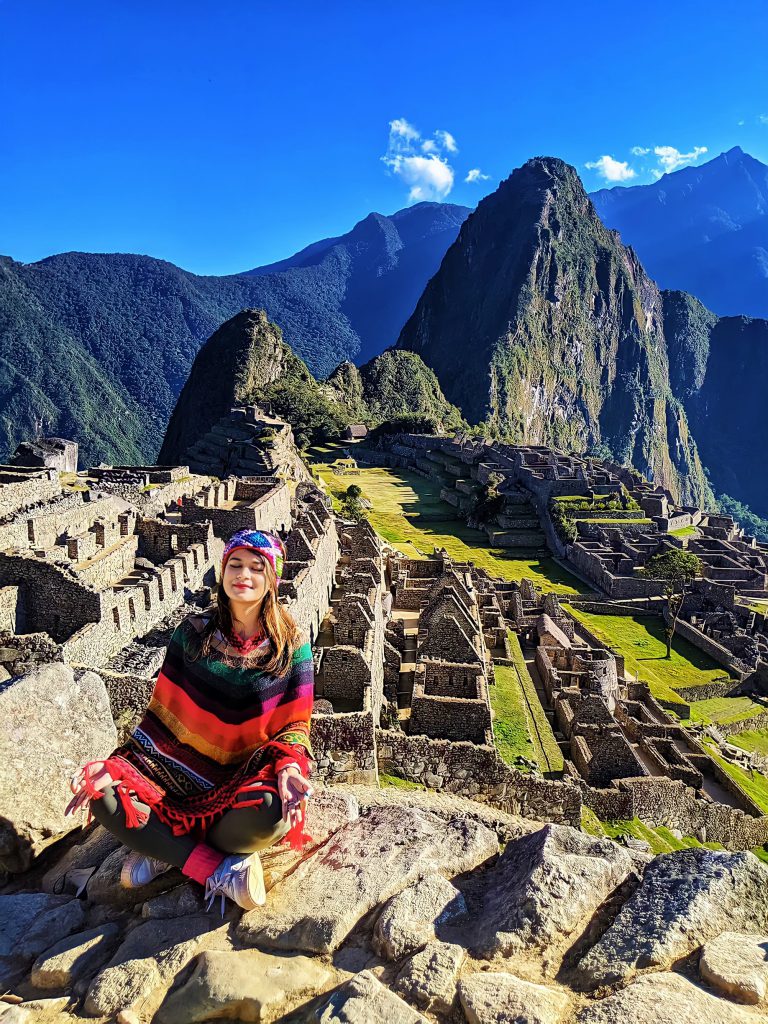 GETTING TO MACHU PICCHU
One of the most common question is how to get to one of the most iconic "Seven wonders of the world". There are multiple modes of transportation you will need to take. My video here shows the exact progression, so it's not so random.
You will need to take a flight from Lima to Cusco. There are direct flights so it's super convenient and it only takes an hour.
You will need to figure out which station you want to board the train from and take a cab or shuttle there. There are multiple train stations depending on your trip's itinerary and places you want to explore. You can board the train from Wanchaq (closest to Cusco), Poroy, or Ollantaytambo. The train ride can be from 1-4 hours depending on the station you board from.
You will need to take a train to Agua Caliente from whichever station
you want to board from (see above).
Finally, from Agua Caliente you will need to take a bus to get to the Machu Picchu trailhead. The bus takes about 30 minutes to get you to the trailhead. You can also hike from the base to the trailhead which takes from 1-2 hours depending on how fast you go and how much adventure you prefer.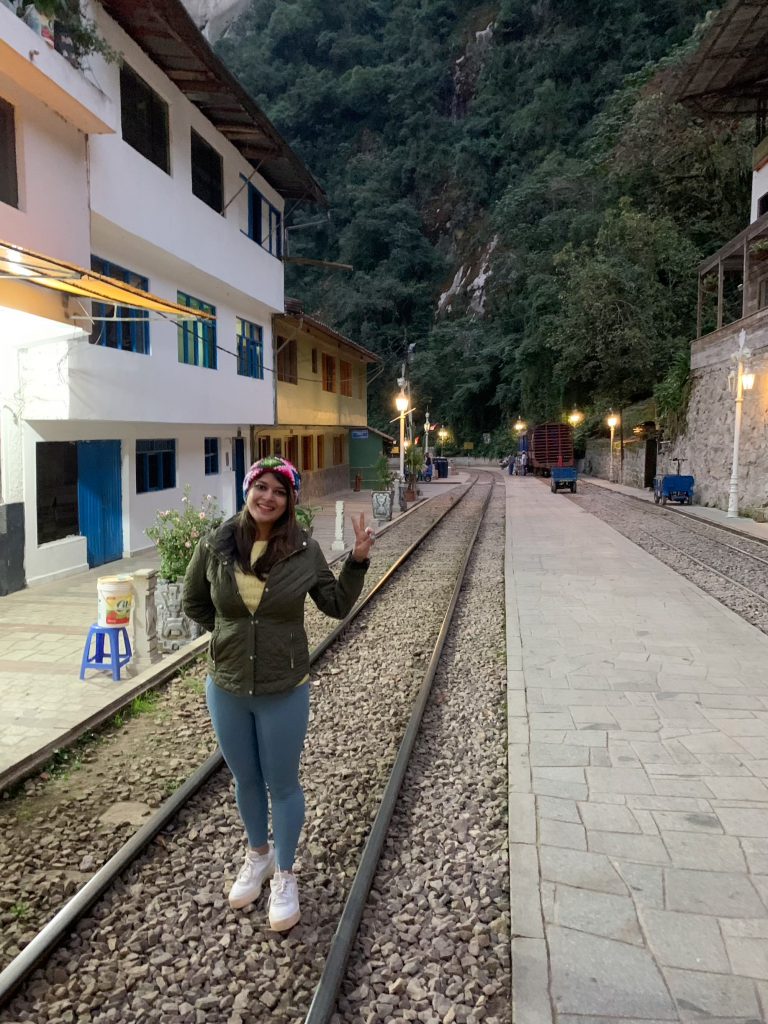 EVERYTHING YOU NEED TO KNOW ABOUT MACHU PICCHU
You should buy your entry tickets to Machu Picchu, train to Agua Calientes and bus ride to the trailhead in advance. Only 2500 people are allowed in Machu Picchu per day because it has been hard for Peru government to maintain the crowd from around the world. I know it sounds a lot but during peak tourist season, these tix are gone way in advance. After all who wouldn't want to see this "wonder of the world".
There are two hikes – Huayna Picchu and Montana Picchu that have limited capacity of 400 and 800 spaces per day.
You need to carry your passport to enter Machu Picchu. It's strictly enforced upon entry.
Weather in Machu Picchu can be tricky. It depends on which season you visit. They have 2 season – rainy season or dry season. During certain months of the year, you might have limited views from the top as it's covered under clouds.
Machu Picchu hike is one way only. This means you get to click photos from a spot only once. If you move forward, you cannot return back. Make sure you spend enough time at each spot, carry water and some snacks. You will easily spend 5-6 hours at the park.
Your trip is incomplete without watching the sunrise at Machu Picchu. I'm not an early riser so this was challenging for me. But glad I did it because it's the most beautiful sunrise of my life now.
You don't need a guide anymore to enter Machu Picchu. But I highly recommend you get one from Cusco or they are easily available at the entrance. They are perfect to tell you all the Inca stories and it's very fascinating.
Masks are mandatory for now inside the park.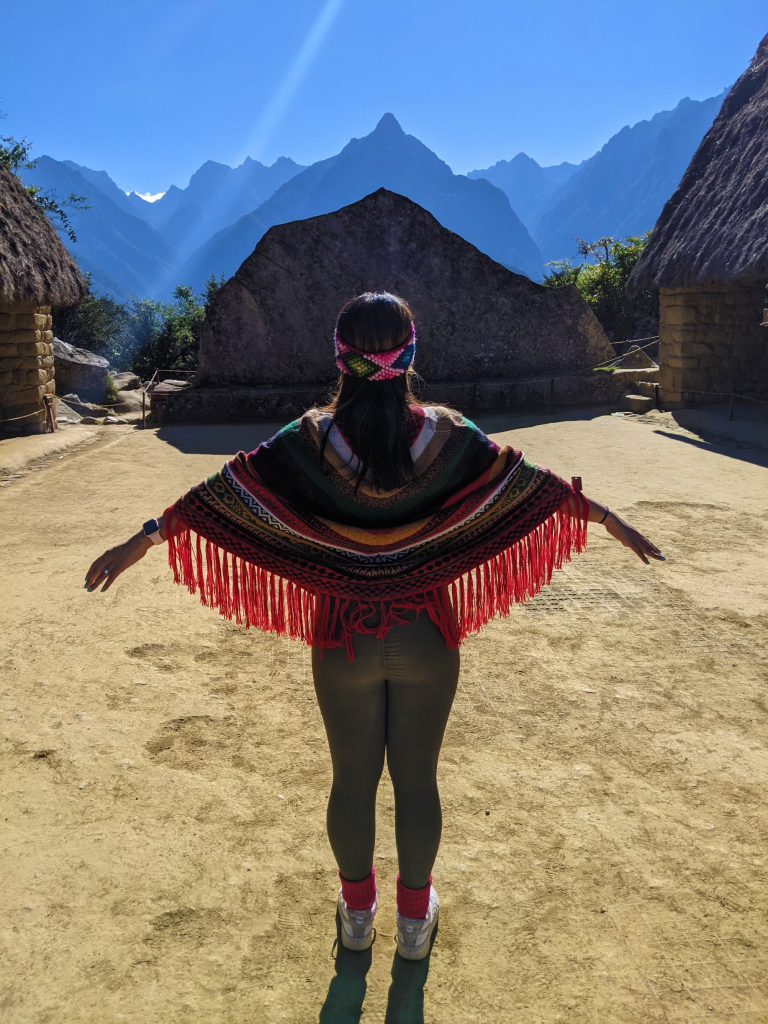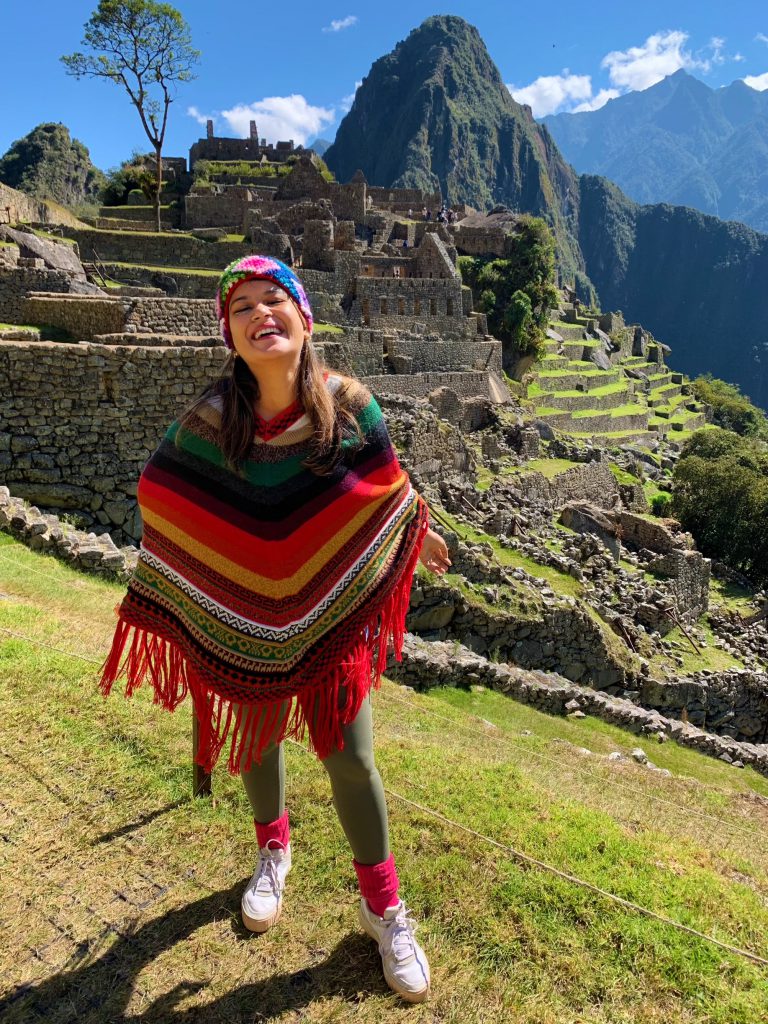 FACTS ABOUT MACHU PICCHU
Machu Picchu is a Wonder of the World and a World Heritage-listed site.
The Spanish empire destroyed most of the Inca cities. Machu Picchu is in a hidden location, making it invisible from below. This is how it got preserved and is an archaeological gem.
Machu Picchu in the local Quechuan language means – Old Peak/Old Mountain.
Machu Picchu was only known locally, until Yale professor rediscovered it in 1911. The professor was Hiram Bingham, an American.
Incas were one of the best masons. The stone structures was meticulous built so they fit seamlessly with each other without mortar.
Machu Picchu is made of more than 150 buildings – baths, houses, temples and sanctuaries. This was a legit civilization.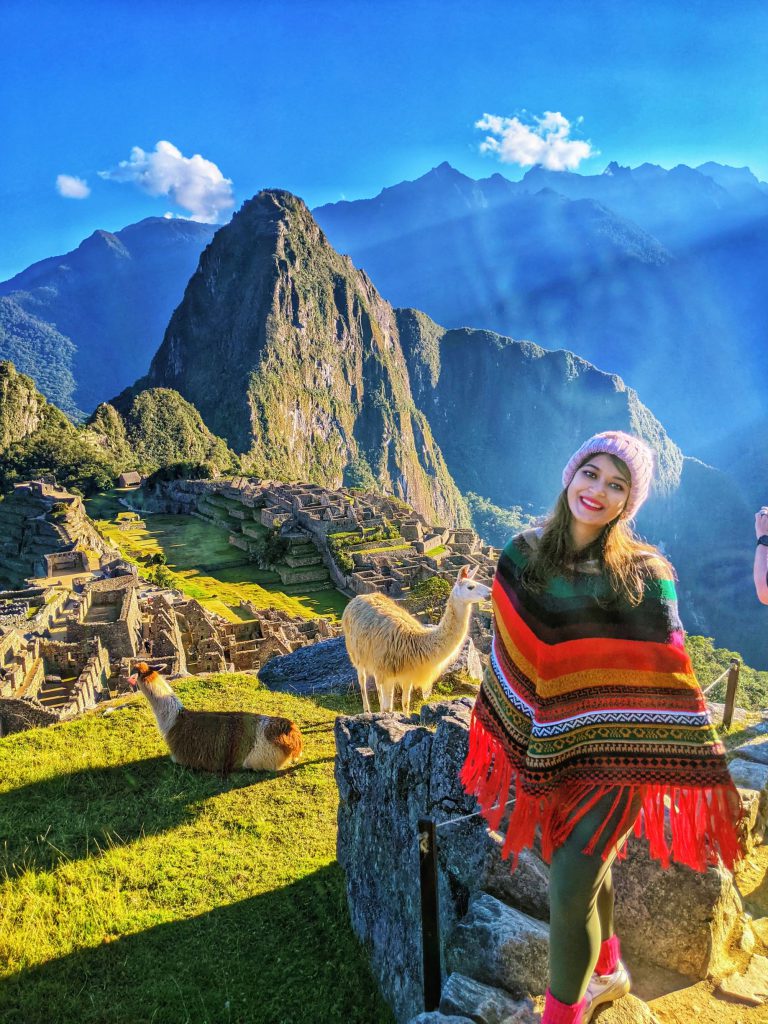 Once we were satisfied, we got amazing lunch at Agua Caliente and took the train back to Cusco later that evening.
Day 6
Hike the Rainbow Mountain
Locally known as Vinicunca, your trip to Machu Picchu is kind of incomplete if you don't do the Rainbow mountain hike. Being honest, it's not easy. But…THERE'S ONLY 4 RAINBOW MOUNTAINS IN THE WORLD AND THIS IS THE MOST FAMOUS ONE.
Now coming back to why it's hard. It stands at 17,000 feet and if you heard my Peru rant about Cusco being at 11,000 feet which almost had me with altitude sickness, this one hits even harder. If altitude sickness is something that can spoil your trip or depending on your fitness level, I strongly recommend not doing this hike.
Here are some facts about this amazing place:
The hike starts at 15,500 feet and ends at 17,000 feet. It seems easy, but it's actually not because you can feel very sick at that altitude. Definitely get a professional guide. The hike is about 6 miles roundtrip.
The trail leading to the rainbow mountain is exceptional, with amazing valley views and snow capped mountains.
It's made of 14 colorful minerals with a combination of different mineral deposits.
It was covered under the snow for a long time. With temperatures rising, the colors were visible when we visted.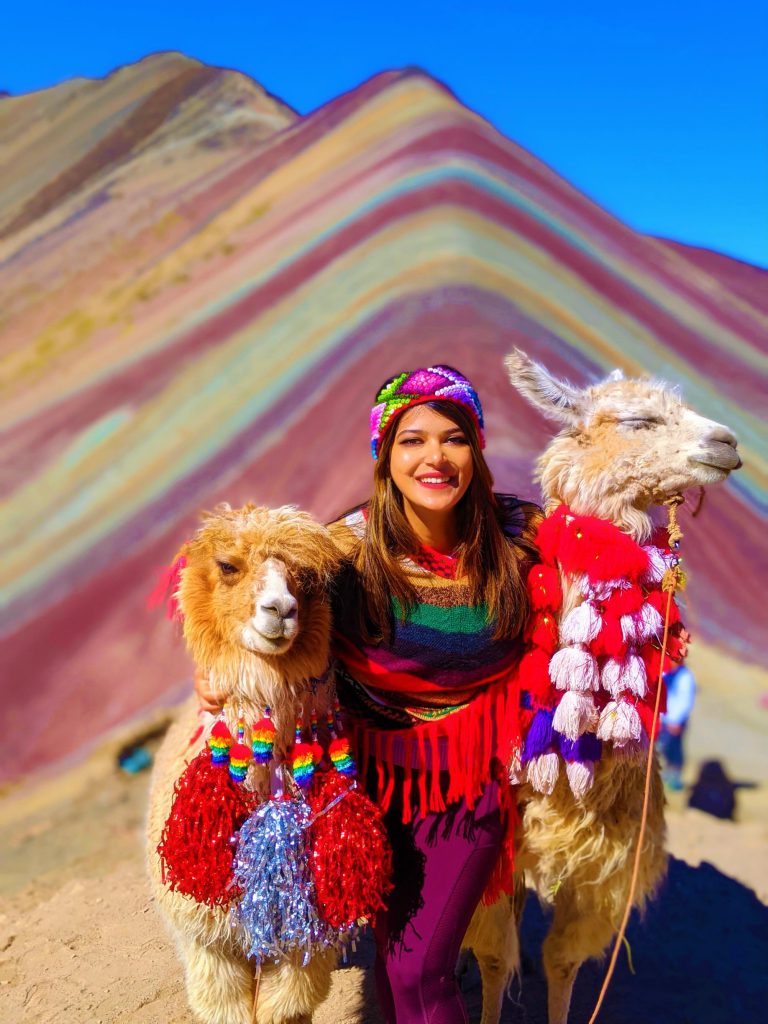 Day 7
Fly back to Lima
Cherish the memories of the most epic trip of your life, drool over the pictures and head back home!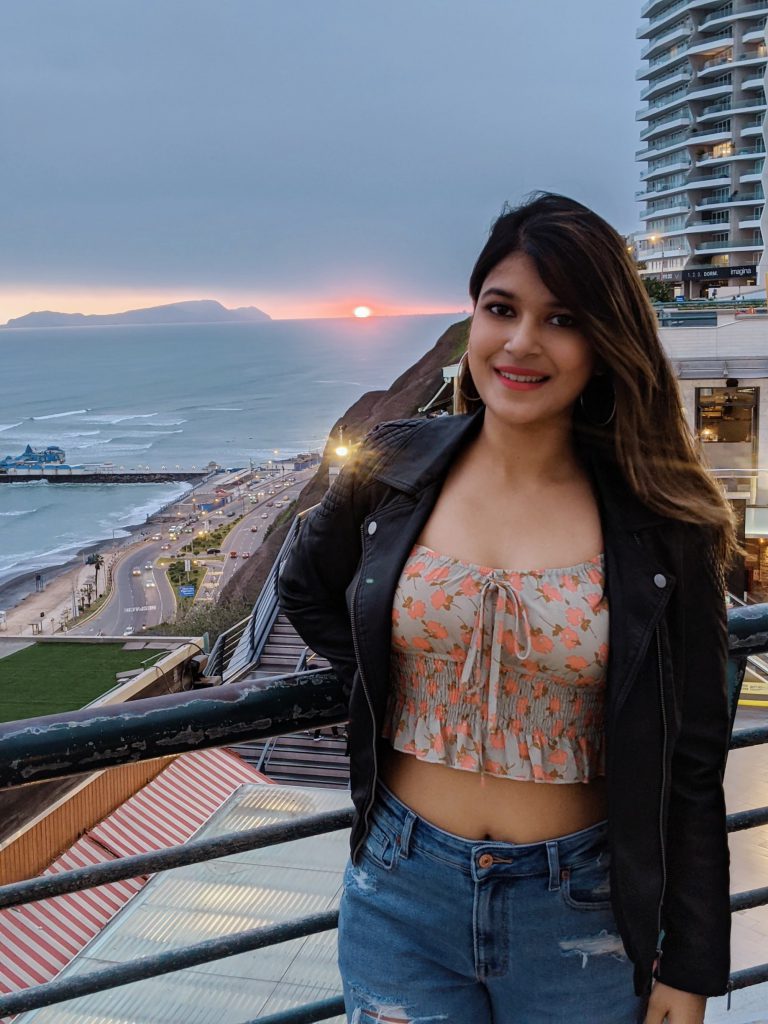 If you have more questions, feel free to follow me on Instagram @discoveringmilestones and checkout my posts and highlights for more details on the Peru trip.
You May Also Like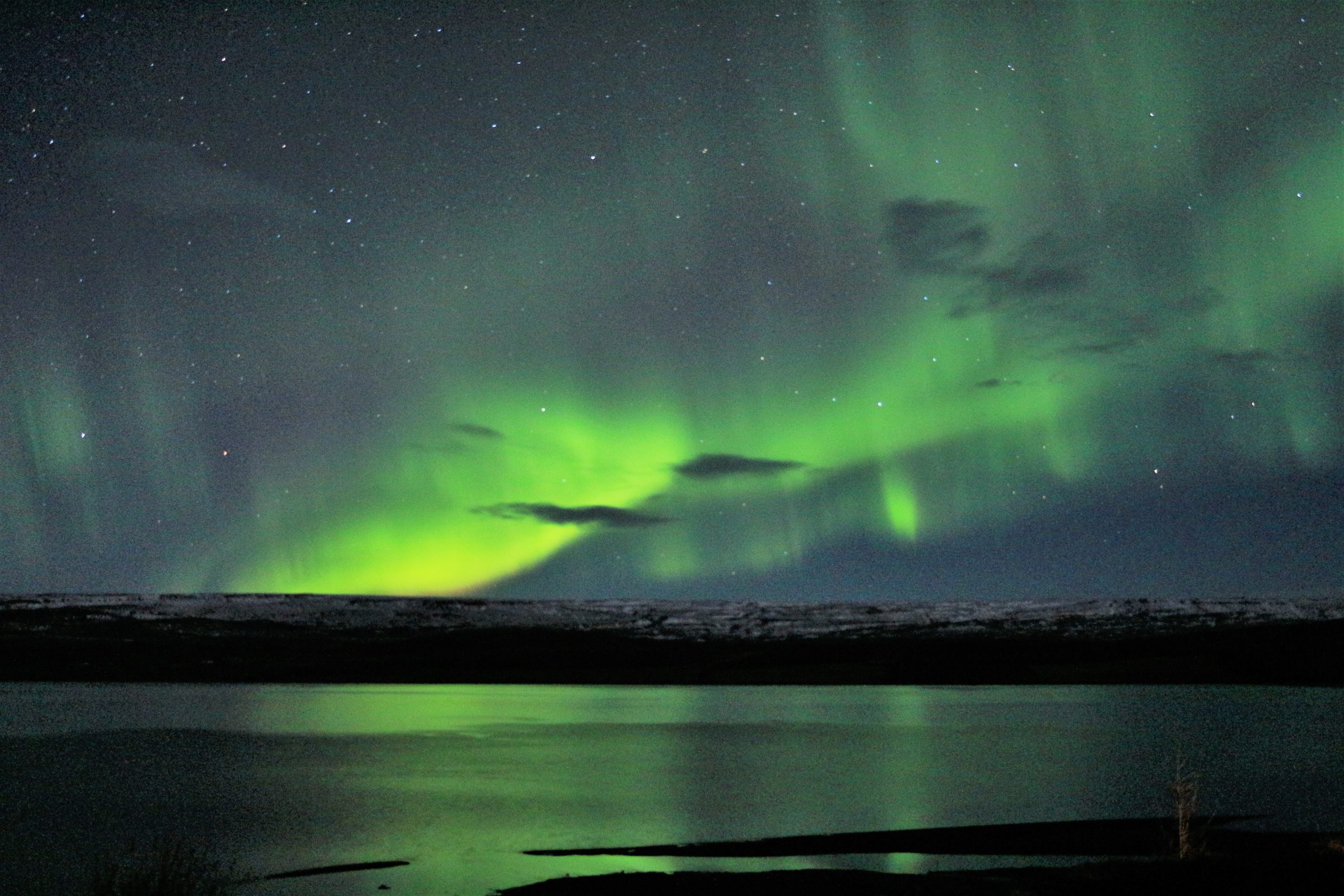 October 12, 2021