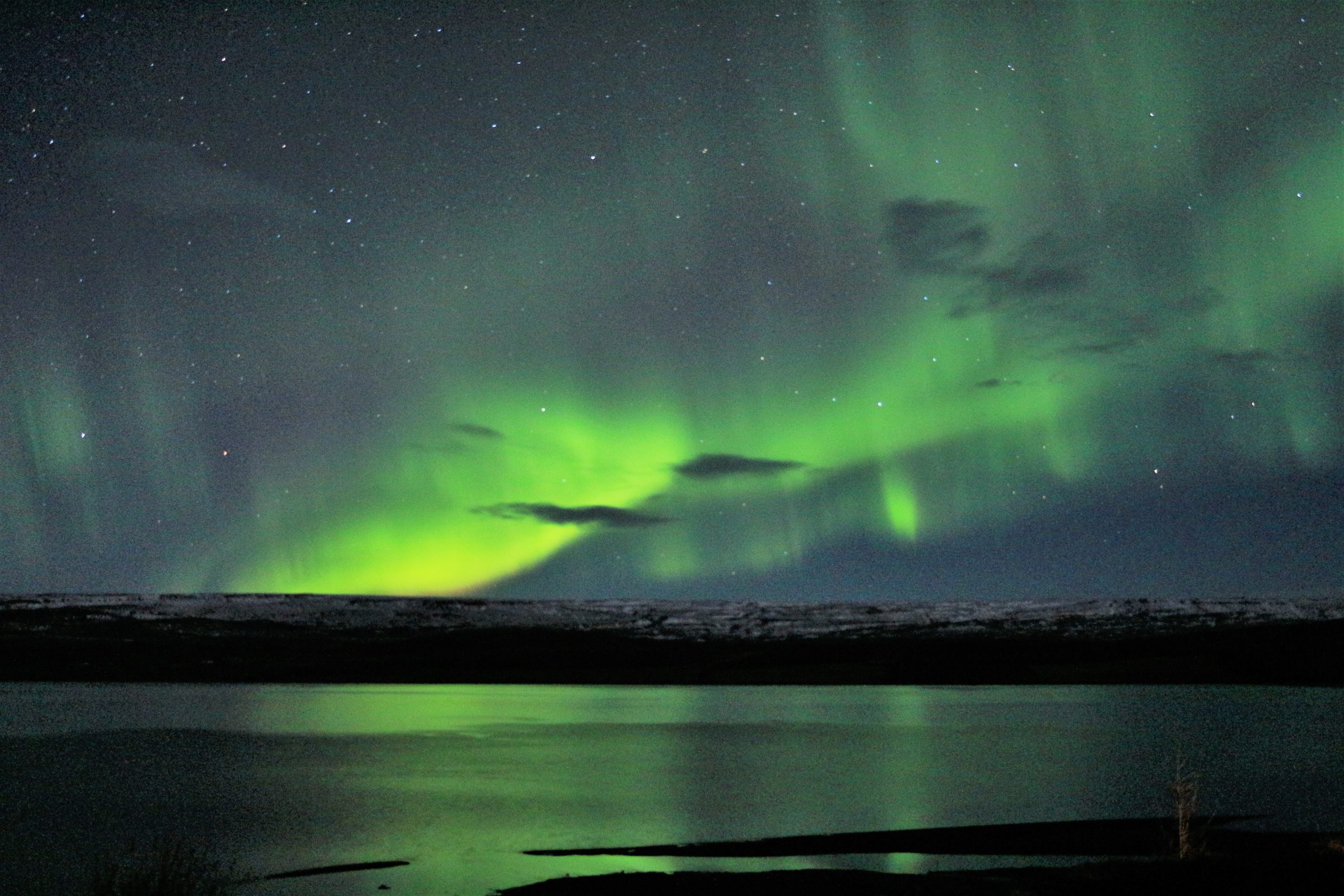 Iceland Road Trip
October 12, 2021
Iceland is a dream destination for a road trip. You can drive around the Ring Road, known as Route 1 in about 24 hours (approximately 800 miles) and cross through volcanoes, waterfalls, glaciers, hot springs, and black sand beaches. If you are lucky, you might also spot Northern lights at night.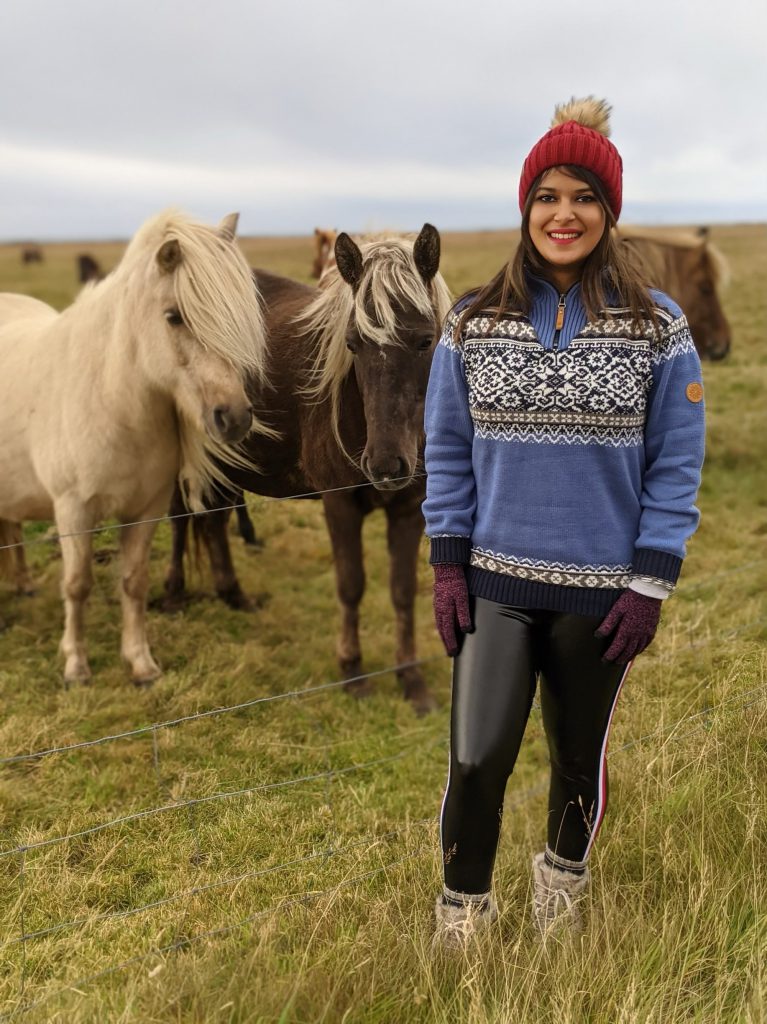 In this blog, I will go through a 10-day Iceland trip that we (my husband and I) did towards end of September 2021 to ring my 30th birthday.
I will try to provide some resources that helped us make this trip a success, such as rental car options, clothing, and hotels.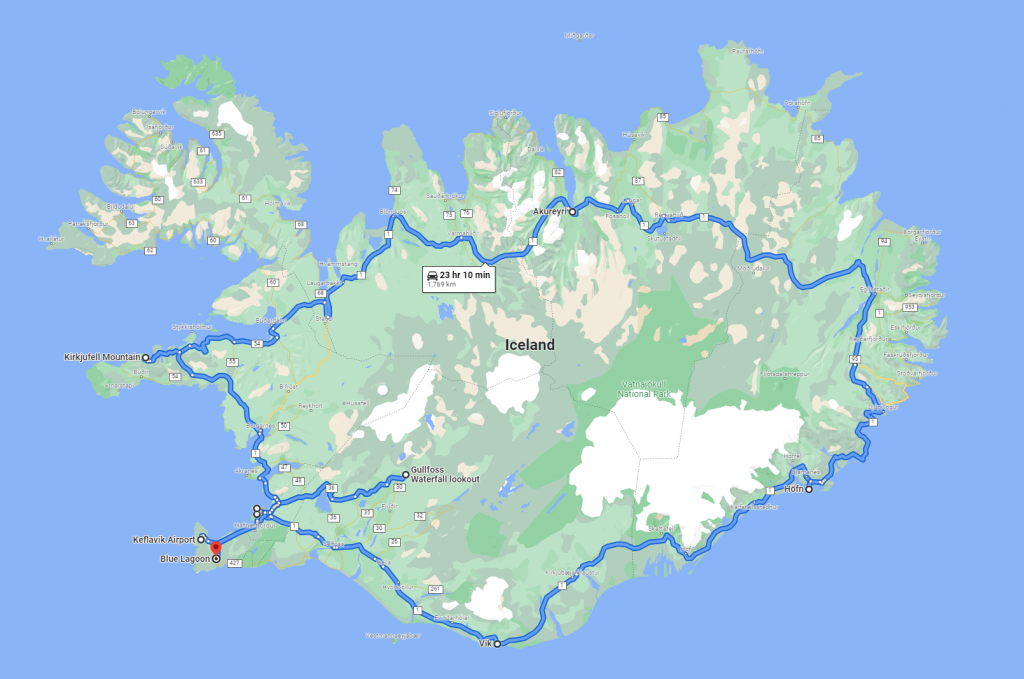 ENTRY REQUIREMENTS
Your best bet to find the latest visa requirements and entry is the official Iceland government website. These are the current entry requirements.
Vaccination certificate
Covid test no more than 72 hours before arrival
Iceland pre-registration barcode
BEST TIME TO VISIT
Every season in Iceland is unique. If Northern lights are your priority, then choose to visit between October to April to have the maximum chance of seeing them. This is the reason we chose Fall, not too cold, not too touristy, can drive safely without dealing with snow and probability of seeing the Aurora Borealis is quite high.
GETTING AROUND IN ICELAND AND CAR RENTALS
It was our first time in Iceland. This blog is catered to folks who will rent a car or get a camper van. People visiting from the US will find driving in Iceland very similar to driving in the US, such as left side driving and traffic rules. Iceland can get VERY windy, so make sure you choose a car that makes you feel safe and is four-wheel drive so that you can do some off-roading if needed. We drove during the Fall season so did not deal with any snow except a little bit in North Iceland. There are many cars rental options online. I highly recommend reading Google reviews before booking from a car company. We literally saw some car rentals giving out rusty cars in very cheap renatl costs, but please consider that the wind is very gusty and your safety is the top priority. We used Reykjavík Auto – Iceland Car Rentals – they had 4.8 stars google reviews and lived up to our expectations. It is slightly more expensive than other options but super trustworthy and we did not have any issues with the rented Suzuki Vitara.
CLOTHING
Iceland has microclimate so you must always be prepared for rain, wind, snow, or freezing temperatures. The best way to dress up is in layers that helps retain more body heat. I recommend getting:
Thermal inner layer
Sweaters
Insulated jacket like parka
Rain jacket
Beanie
Gloves
Waterproof shoes
FOOD EXPENSES
Iceland food is expensive! We found it slightly more expensive than in the US. Feel free to do groceries and choose a hotel or Airbnb that has a kitchen if you are on a tight budget.
LOCAL APPS
THINGS TO CONSIDER
Buy snacks in advance for emergency.
Get your gas for the day in advance. Gas stations are sparsely situated.
Always hold your car door when exiting because it can get super windy and blow it off.
Get a car insurance.
Do not buy water. Iceland has the purest water and tap water is super safe.
Hot water in Iceland can smell foul because they contain Sulphur and comes from geothermal activity. It is safe to shower in hot water though and you will not smell bad post the shower. 😉
Iceland is one of the world's leaders in fisheries and free roaming lamb. If you love fish or lamb, make sure to prioritize it during your meals over other meat. If you are vegan, you will be totally fine as each restaurant we visited had at least one vegan option.
Make sure to have internet or download offline google maps.

10 DAYS ITINERARY
We did the road trip in counterclockwise direction. Without any further ado, let's get started on the best 10 days road trip of our lives.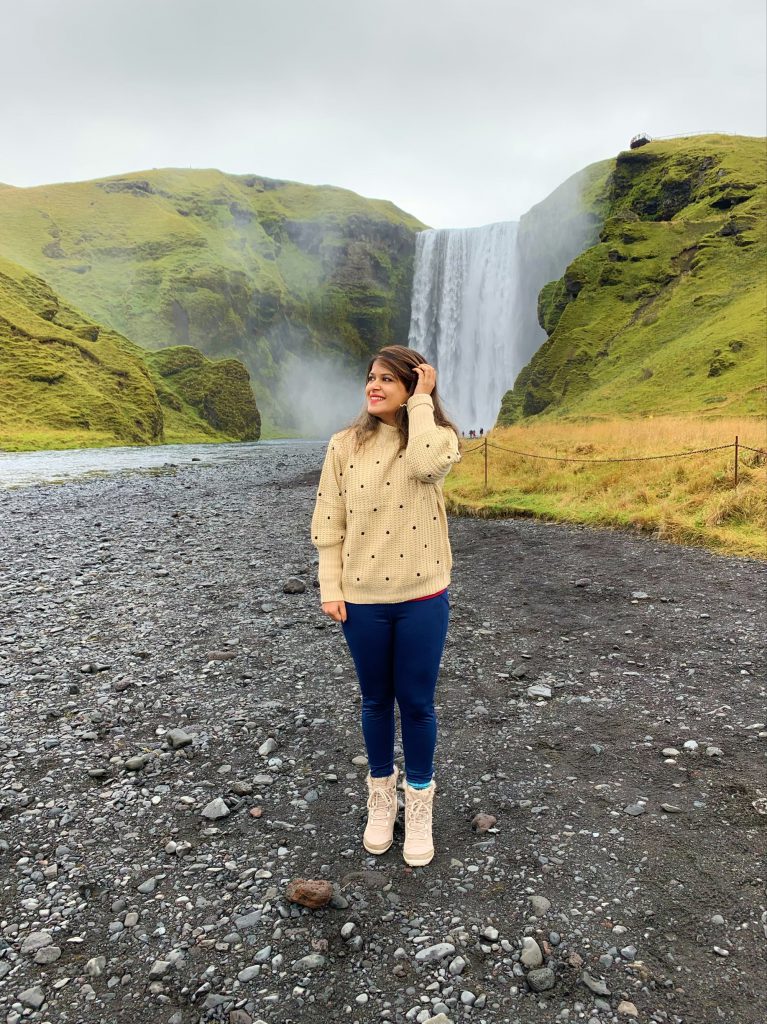 Day 1:
We had a direct flight from Seattle (our home) to Reykjavik or Keflavik Airport. This is the main airport, and you will most likely land here as an international tourist. The airport is 50 minutes away from Reykjavik. We landed at 6 AM, went through immigration, waited for the car rental shuttle to pick us up, and got our car by 7:30 AM.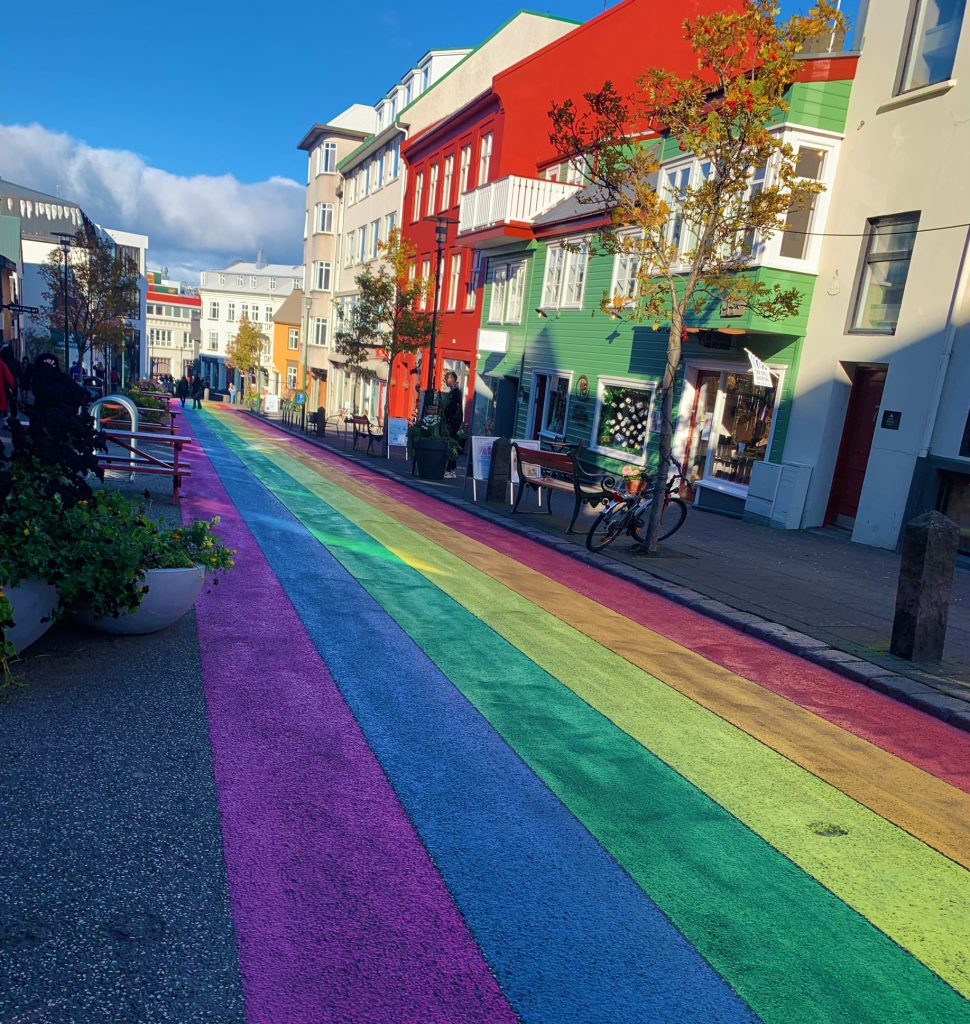 Consider this as a rest day to get over jetlag and pump up for the road trip. We explored Reykjavik city and visited the Magic Ice bar to get some Game of Thrones vibes.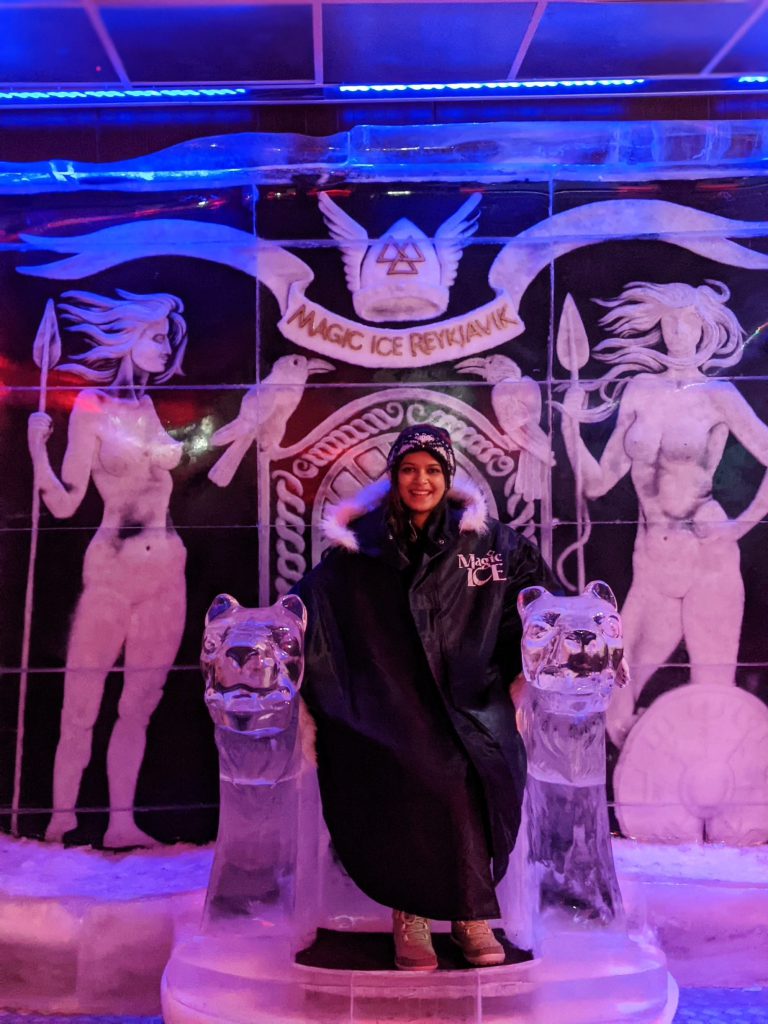 DAY 2:
We headed out early to do one of the most iconic loops in Iceland called the Golden circle. It covers walking between two separate continents, geyser, and breathtaking waterfalls.
STOP 1: Thingvellir National Park
This place is famous for walking between the fissure that is created by North America and Eurasia tectonic plates. If you have extra time, you can snorkel between these plates too. Brag worthy experience for sure!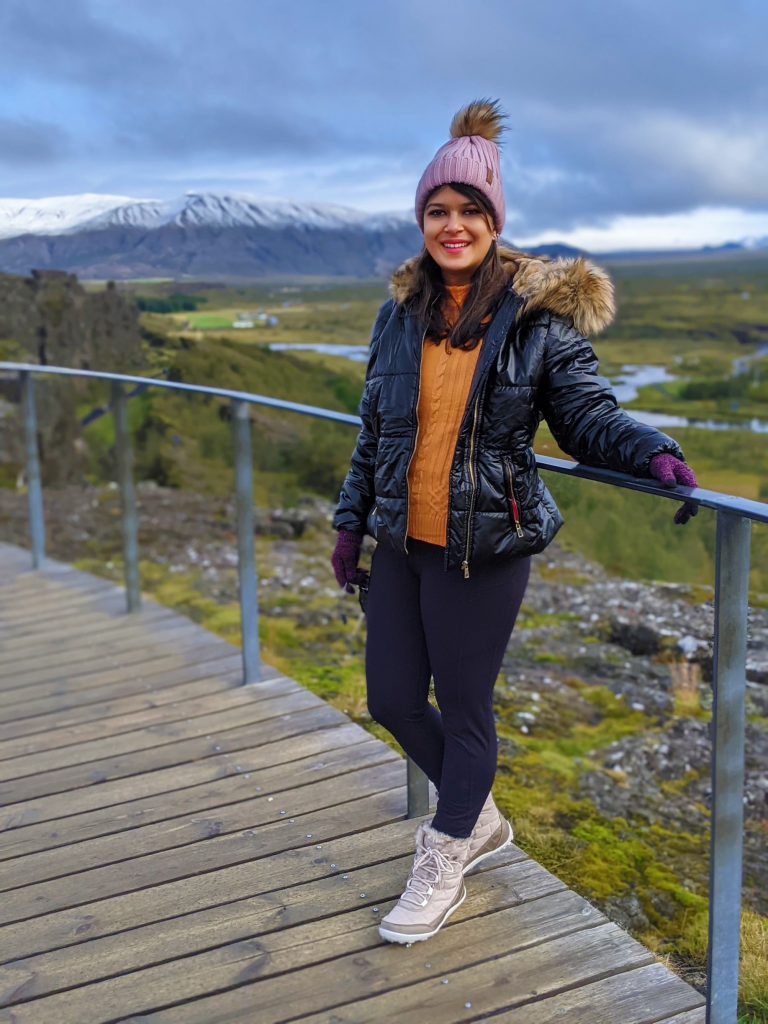 STOP 2: Strokkur and Geysir
Strokkur is a super fun geyser in Iceland that explodes up to 100 feet every 5-10 minutes. The entire experience will seem very orchestrated, but you will be amazed with this wonder of Nature.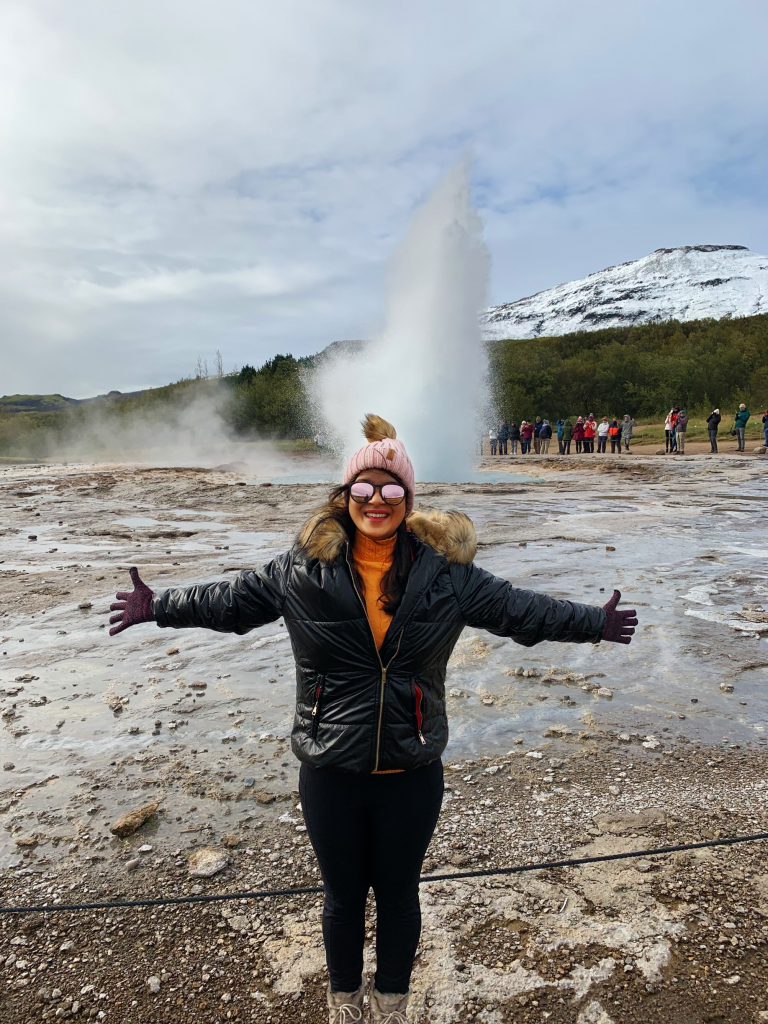 STOP 3: Gullfoss waterfall
Driving distance from Strokkur is Gullfoss waterfall. You can feel the splash literally from the parking lot. There's a 0.5 mile walk if you want to get closer to the waterfall. I'd say do it because the gush of water will give you major goosebumps. Don't want to get drenched? Keep a rain jacket handy!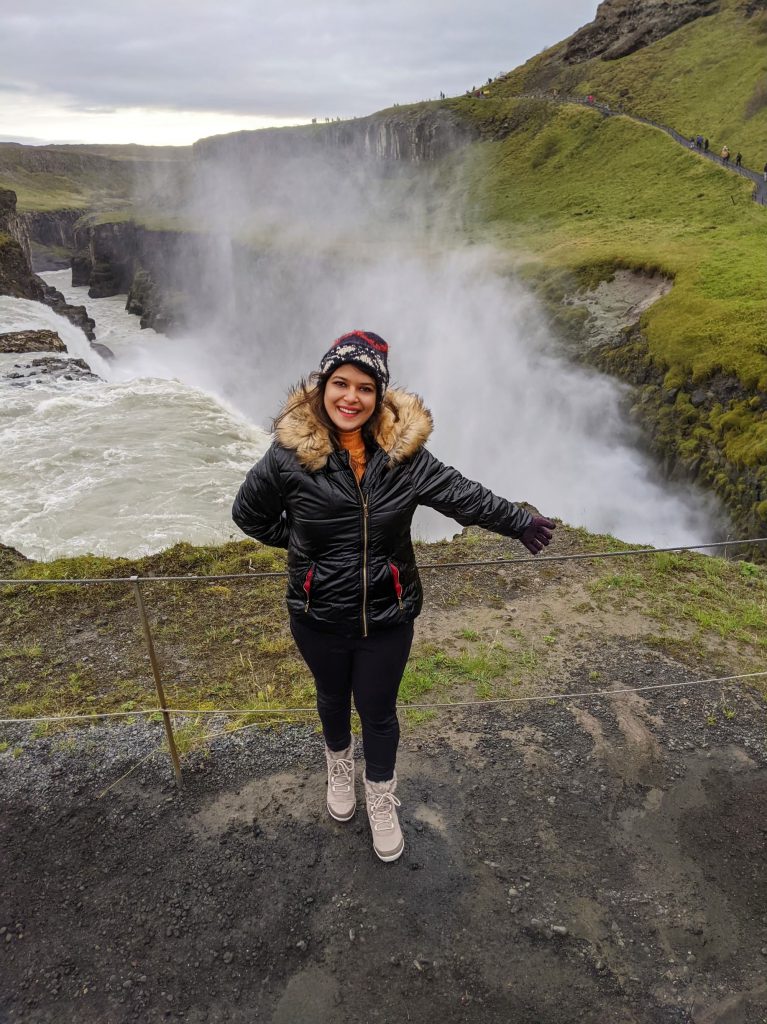 STOP 4: Kerid Crater
There is a paid entrance fee of about 400 ISK (~$3). It's a volcanic crater lake with red colored slopes and aquamarine water.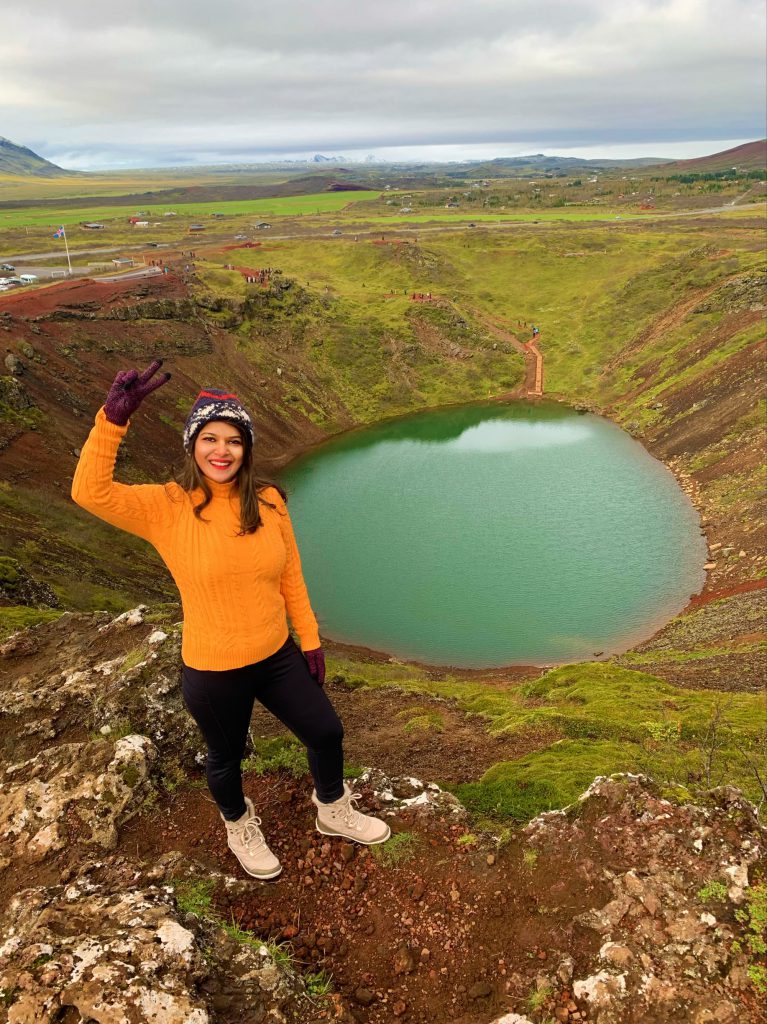 STOP 5: Sky Lagoon
After a hectic day at the Golden circle, I highly recommend visiting a thermal spa. We chose to do Sky Lagoon and I thank my husband for finding this amazing place to watch the sunset. The entire vibe is so stellar, with clean changing rooms and shower area. It is less touristy than Blue Lagoon so felt personal, and we spent time here till the sun went down.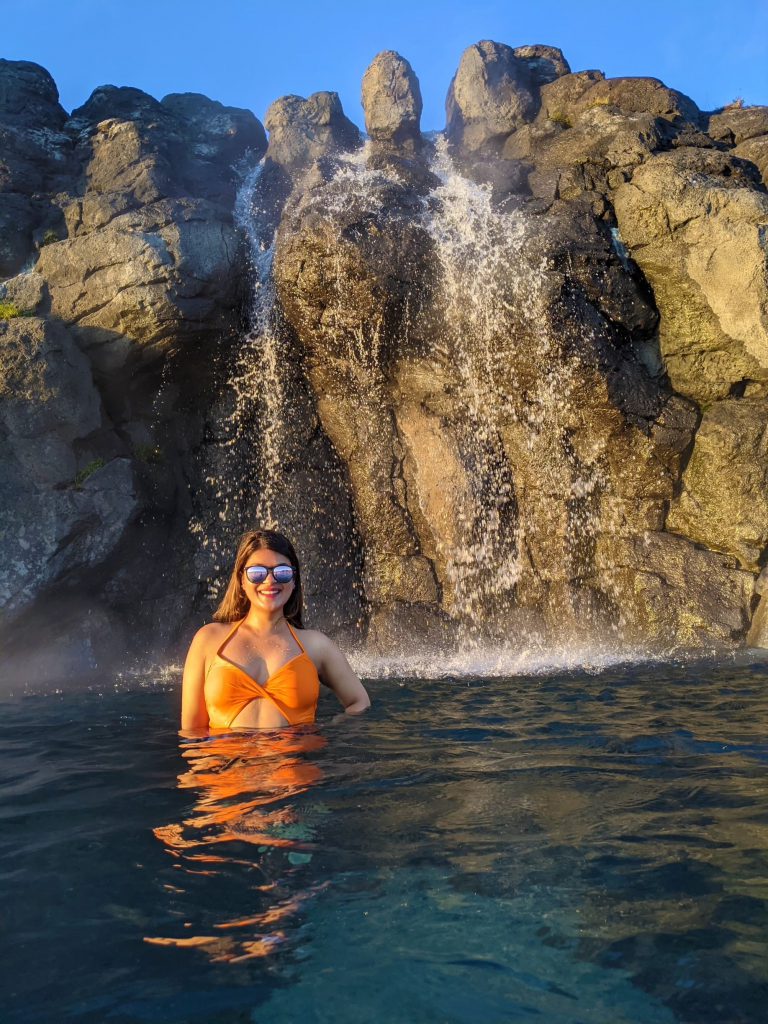 Day 3:
Pro tip for today – We will be seeing 4 waterfalls back-to-back. So keep your rain jacket handy and get ready to get a little drenched. For my Indian readers, we start our journey for South Iceland today. A lot of these locations are showcased in the song Gerua, featuring Sharukh Khan and Kajol.
STOP 1: Seljalandsfoss
First up is one of the most iconic waterfalls in Iceland. You probably might skip getting wet in other waterfalls but not in this one. The most amazing thing is that you can walk behind this waterfall. If you want to see some colors, then try to be here during sunset time. We had so much to explore that day, so we moved forward.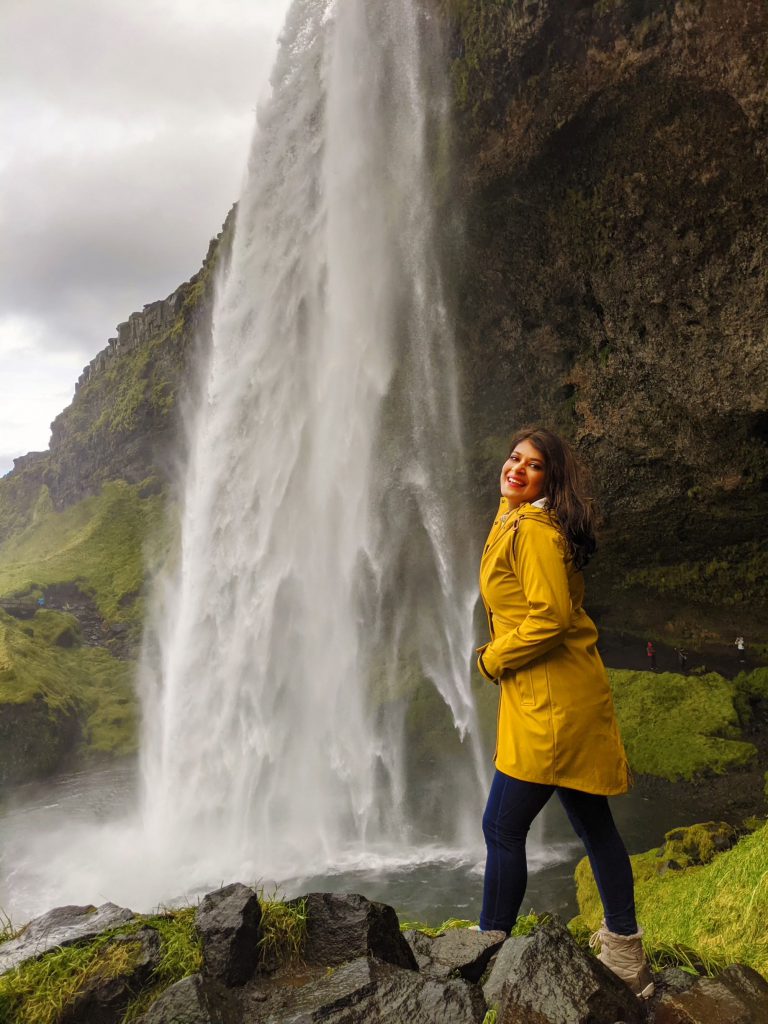 STOP 2: Gjlufrabui
Okay, I think I lied about getting drenched only in Seljalandsfoss. Gjlufrabui is the one where you will most definitely get drenched. And I mean it! This waterfall is walking distance from Seljalandsfoss and you can get to from a little cave entrance. As walking into the cave and out, you will most definitely get drenched as the cave captures all the mist and splashes from the waterfall.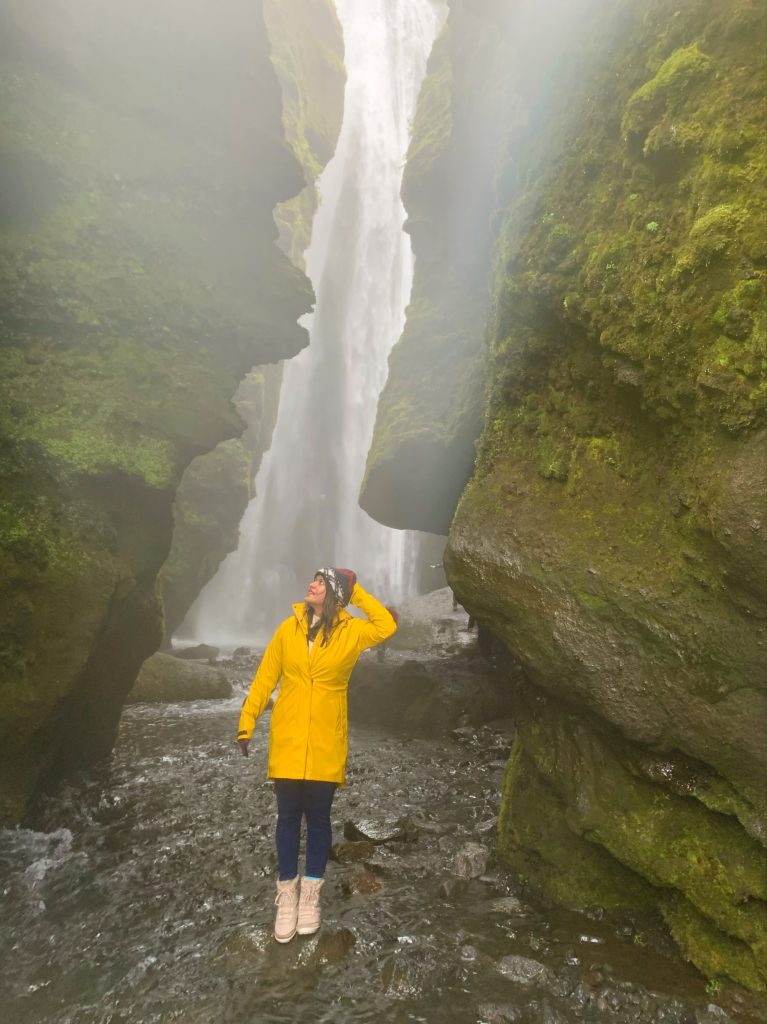 STOP 3: Skogafoss
Another VERY VERY popular spot in Iceland is Skogafoss and for all the right reasons. If you do not walk very close, you will probably not get wet. But oh my god, the vibe of this place is another level. That 200 feet drop is so charming. My pictures do not do any justice.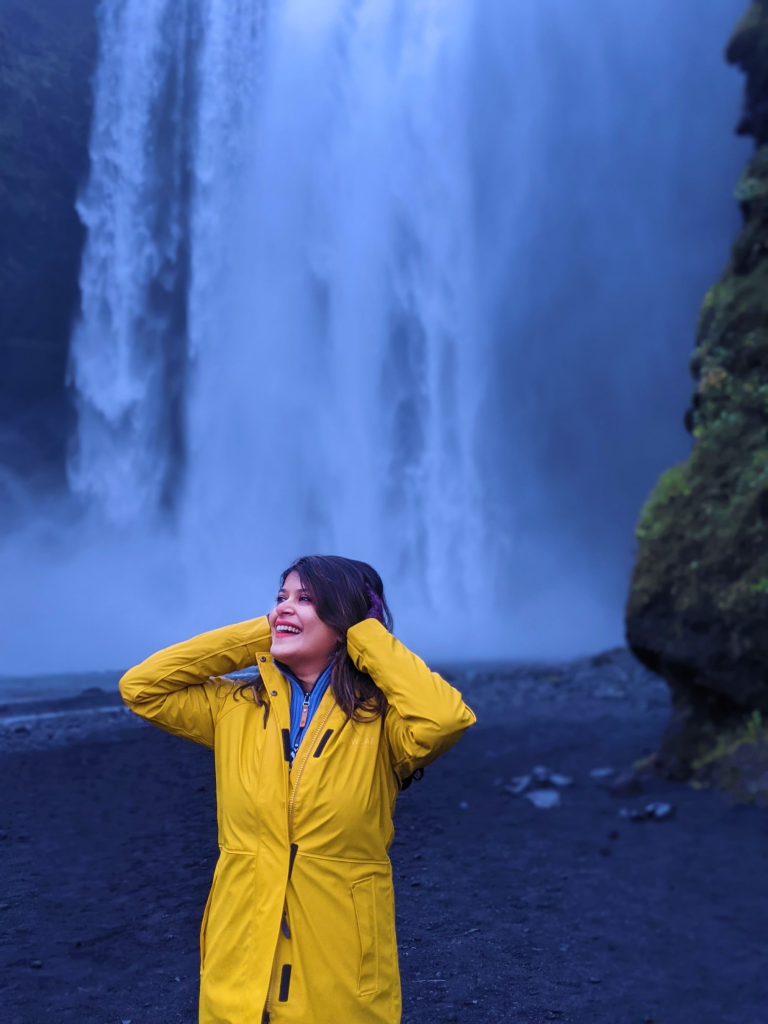 STOP 4: Kvernufoss
Once you get your "Most popular picture of Iceland" at the Skogafoss, drive a little bit to Kvernufoss. This waterfall involves a short hike but is less touristy and is probably my favorite waterfall in Iceland. We spent decent amount of time here as we had the waterfall all to ourselves.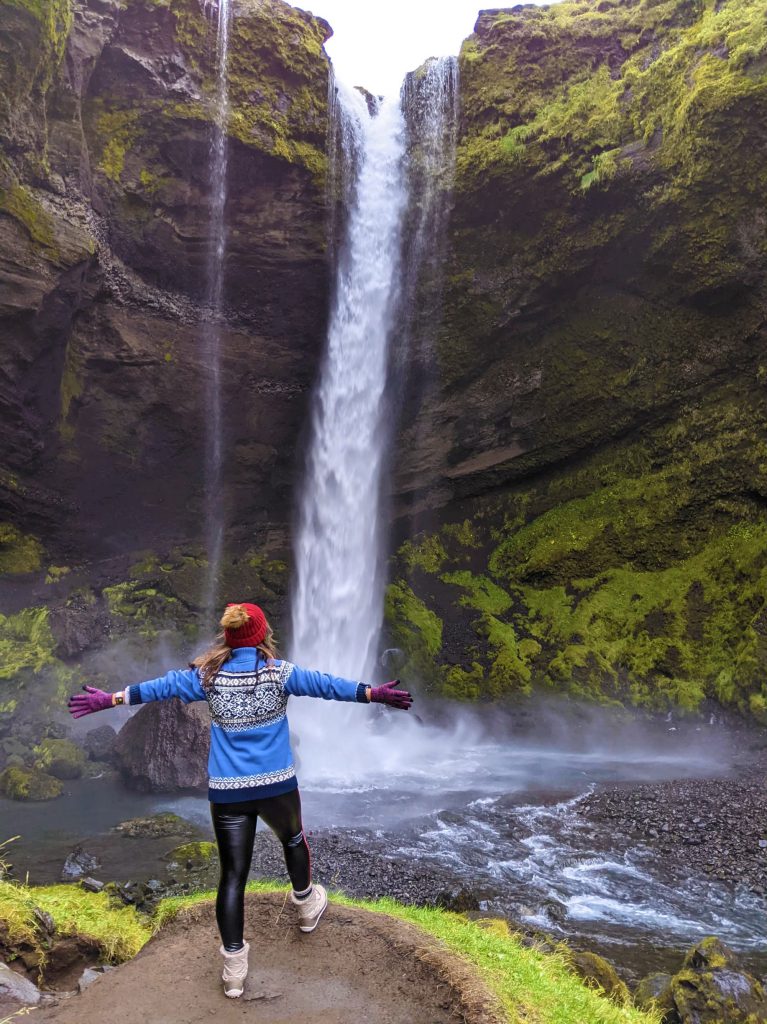 STOP 5: Sólheimasandur Plane Wreck
If you are out of energy, I would say skip this one as it's super windy here and involves a hike of 4.4 miles roundtrip. I was in #YOLO mode, so we hiked this one only to realize there is a bus service that drops you closer to the wreck. The charges were decently expensive, about $30 roundtrip. The experience of seeing this plane wreck is unparalleled though. In 1973, the US Navy did an emergency landing on this black sand beach and since then the wreck remains here. If anything, I got super rad pictures here. I kept wondering how Kajol pulled off looking so stunning in Gerua with that much wind.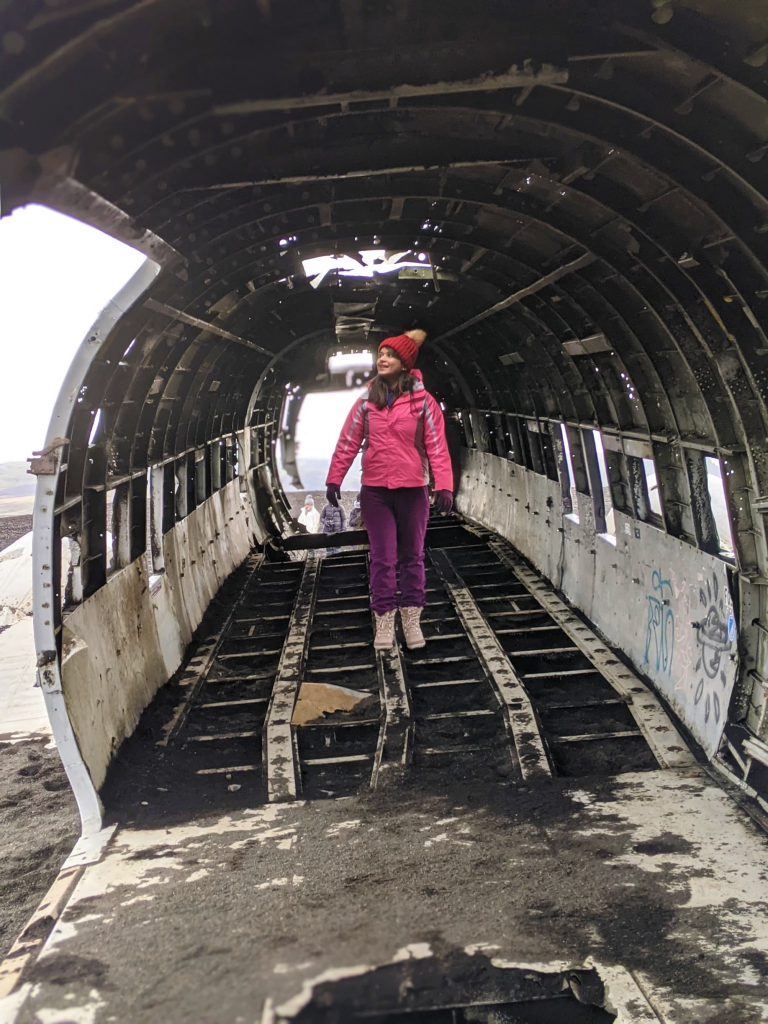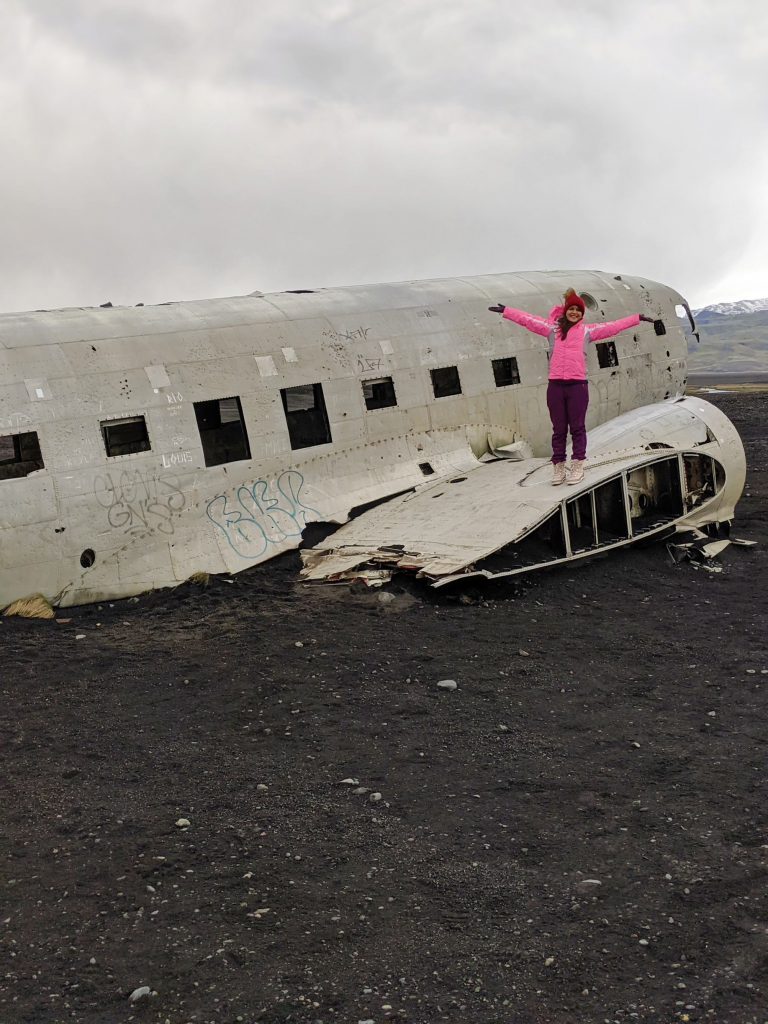 Day 4:
STOP 1: Reynisfjara beach and Vik
This is one of the most dramatic black sand beaches I have seen in my entire life. The basalt columns are super picturesque and you will see a bunch of sections here featured in Game of Thrones. Next to the beach is Vik, one of the windiest places in Iceland but super quaint.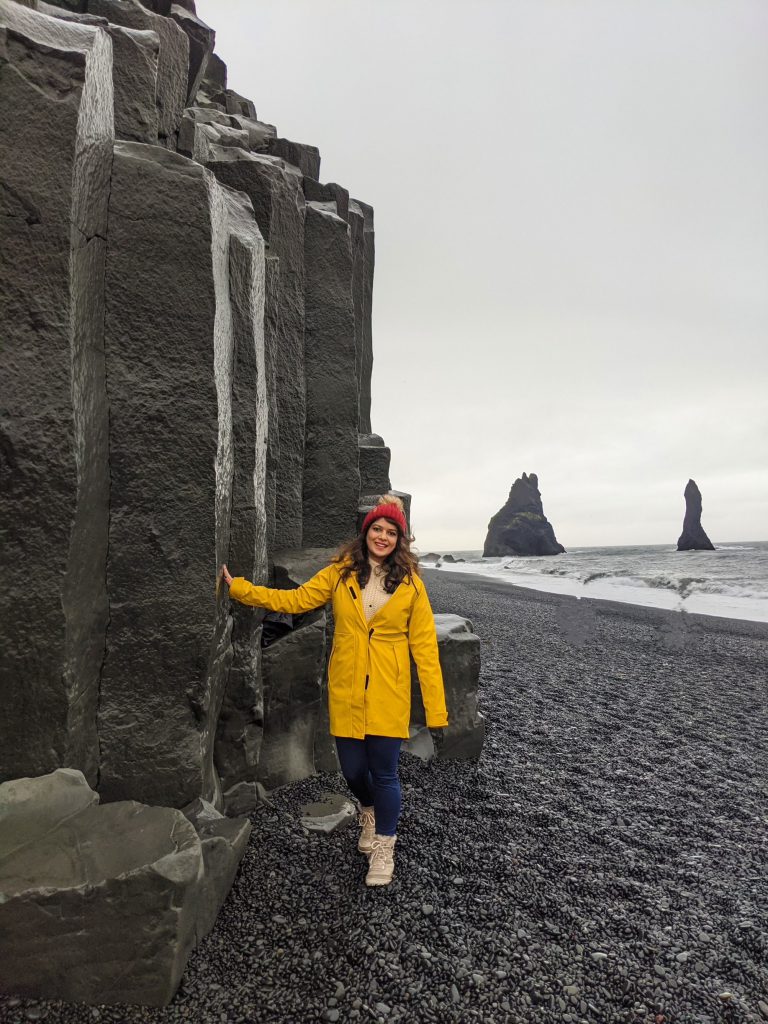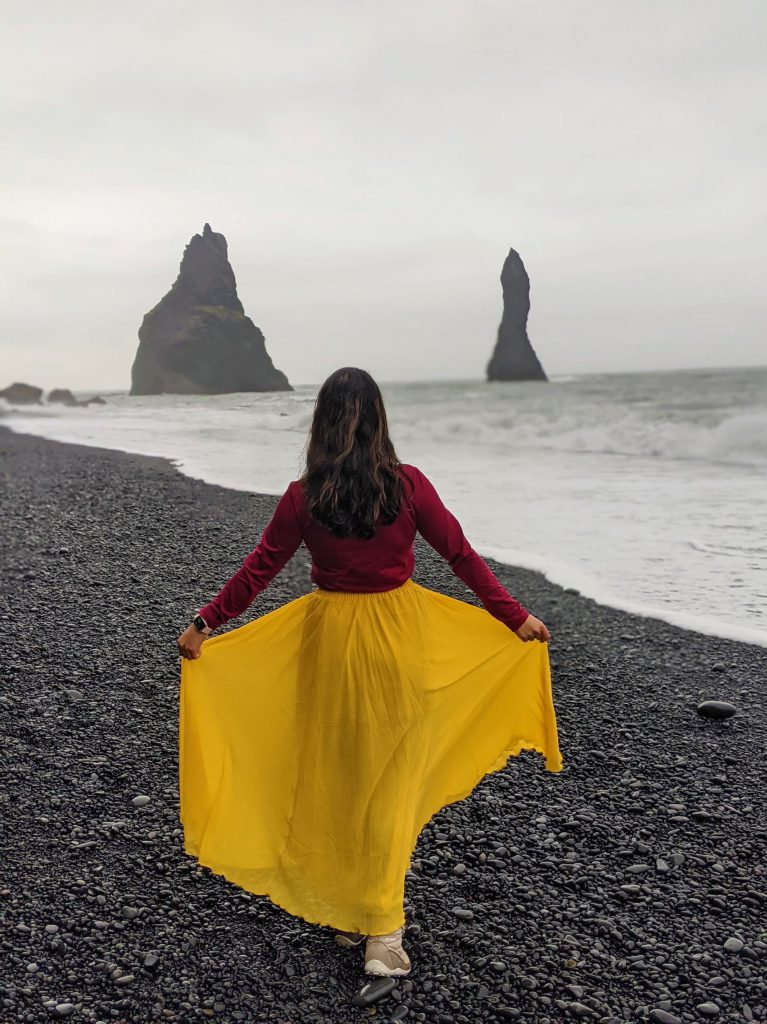 STOP 2: Fjaðrárgljúfur Canyon
This canyon requires a 2 miles roundtrip hike from the parking lot and features a waterfall to make it even more worth it. It has humongous cliffs and a river flowing underneath. It has a meshy boardwalk, which will give you some adrenaline rush.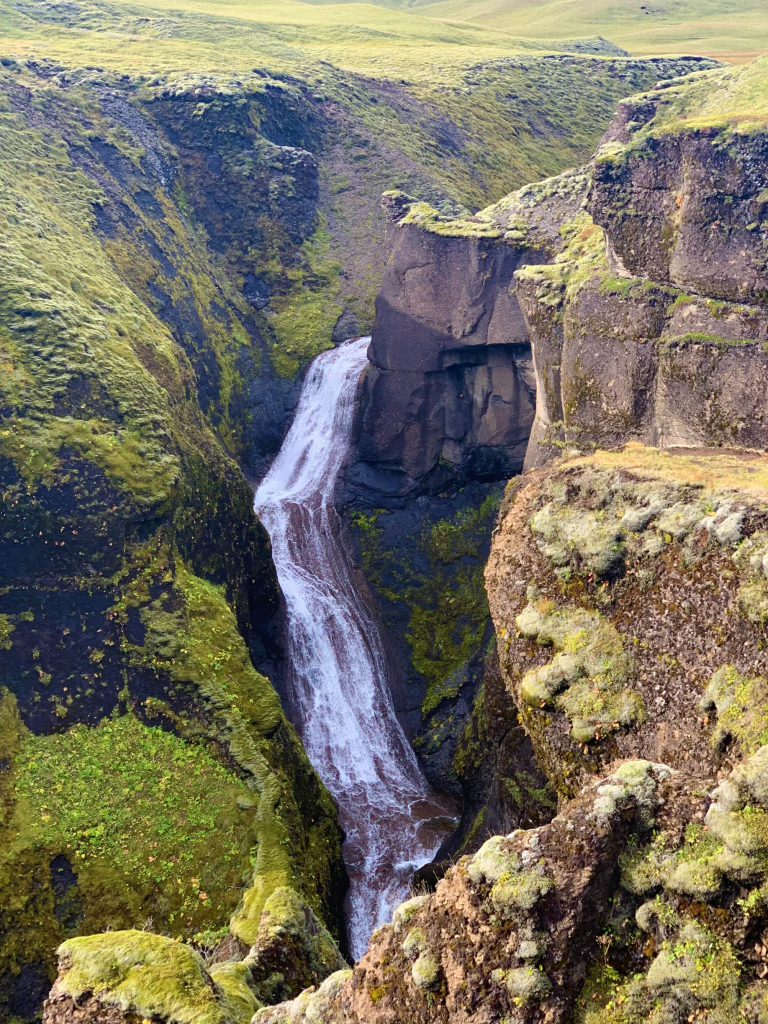 STOP 3: Svartifoss
We did this but could have skipped it because we realized the hike was quite hectic with the elevation gain and the time constraint. If you have time, you can hike to the bottom of it and get a glimpse of the dark lava column. We got some cool drone shots of this though.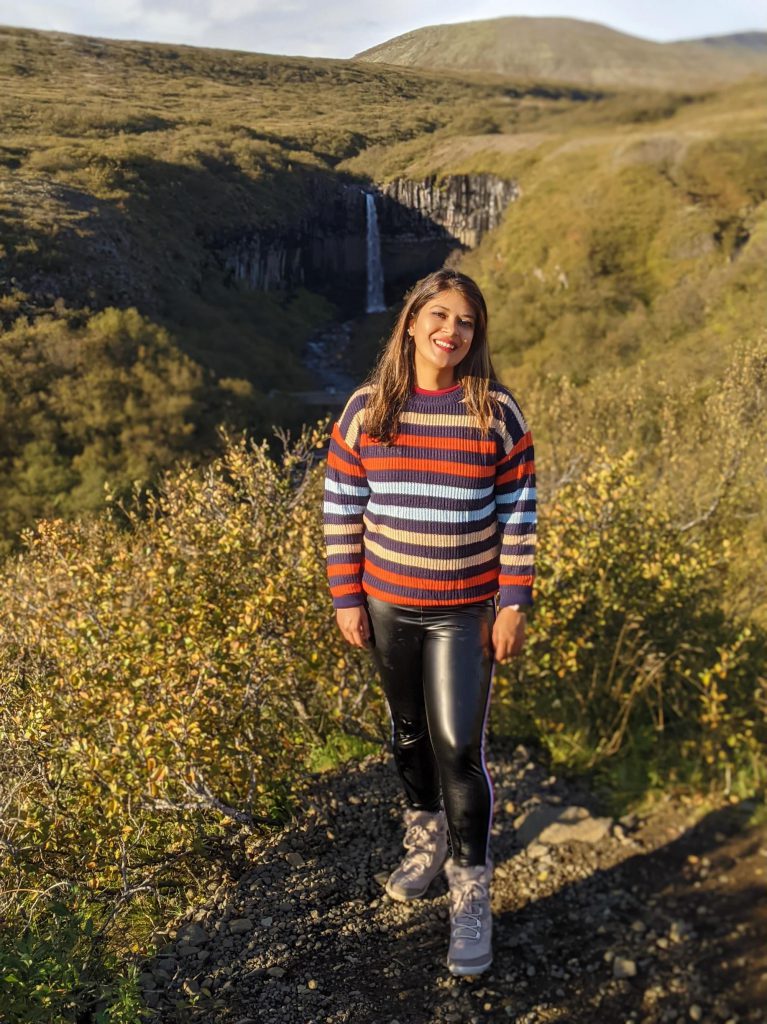 STOP 4: Svínafellsjökull View Point
Less than 2 miles roundtrip from the parking lot, this is a less touristy glacier lagoon. I assure you that it's fabulous and has way more ice chunks than you can imagine.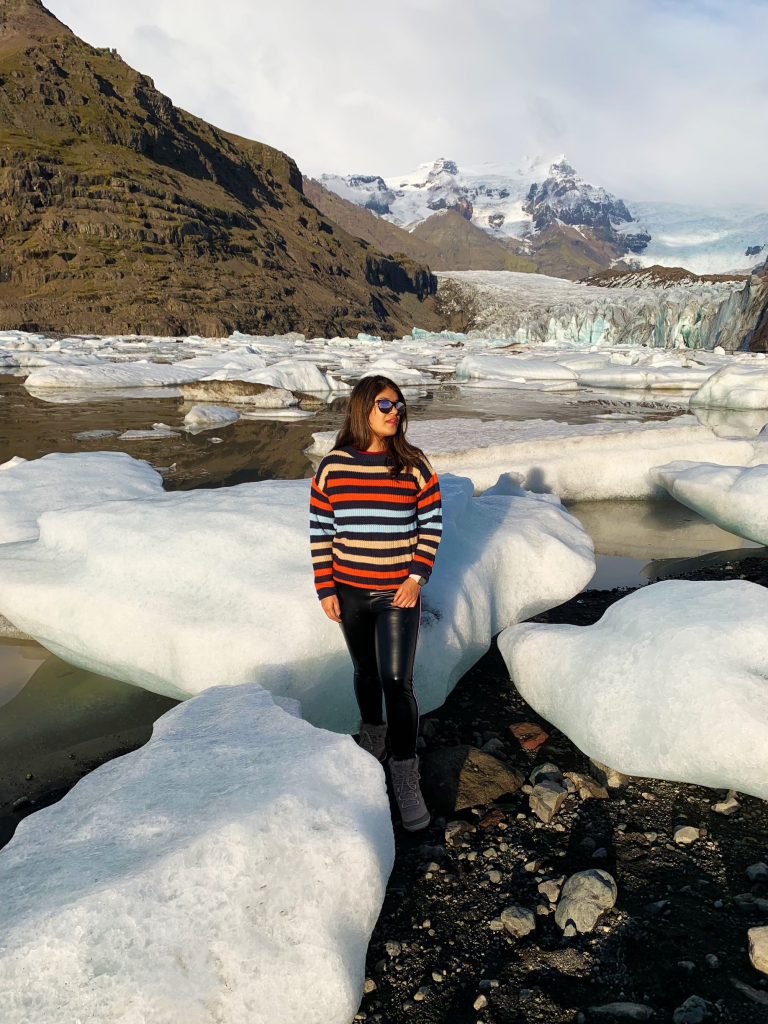 Day 5:
This was one of my favorite days in Iceland.
STOP 1: Jökulsárlón Iceberg Lagoon
Another super popular spot in Iceland and for all the right reasons is Jökulsárlón Iceberg Lagoon. Just at the base of a glacier, this lagoon is very photogenic. If you wanted to get close, you could do a boat tour. Once you are a little hungry, please do not miss the food truck called "Nailed It Fish and Chips" in the parking lot to have the most amazing fish and chips of your life.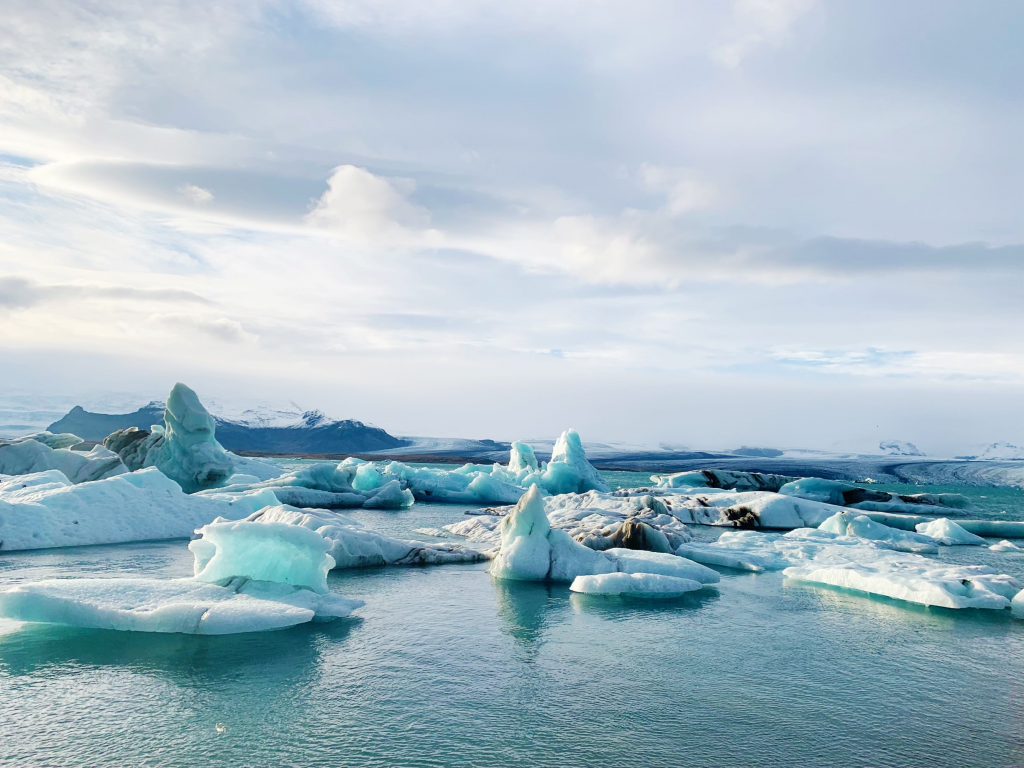 STOP 2: Diamond beach
Big girls like big diamonds! And for real because if you visit this place close to sunset the ice chunks will look exactly like diamonds. This place is walking distance from Jokulsarlon glacier so it's super accessible.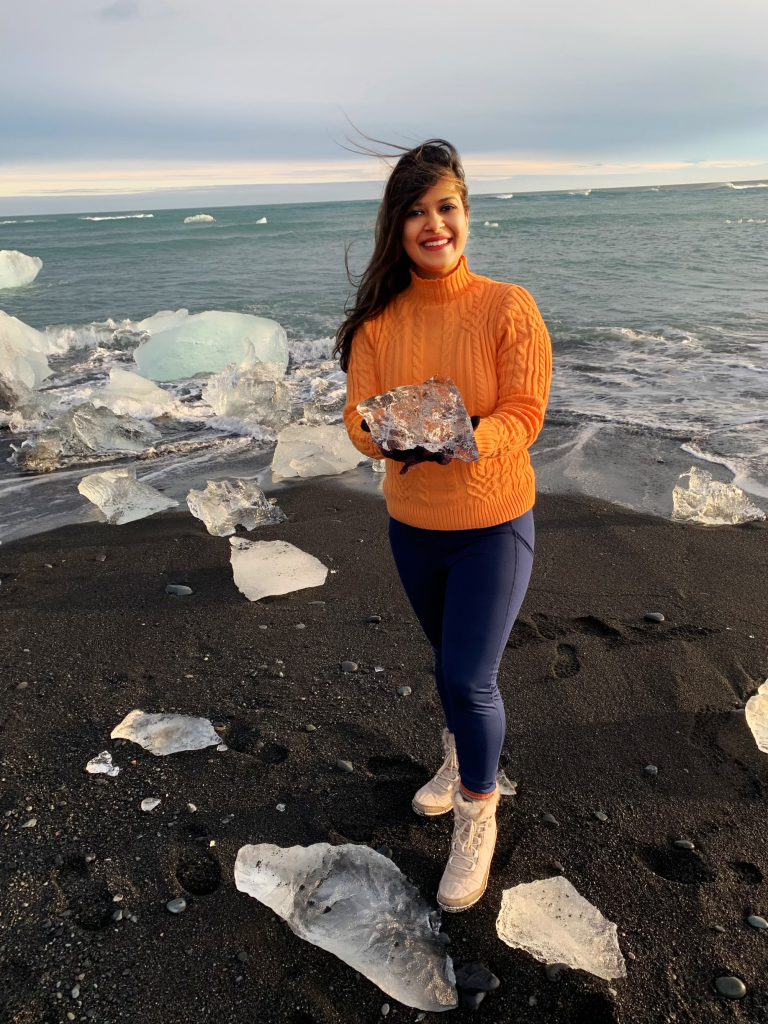 STOP 3: Ice caving
This was one of the coolest experiences in Iceland. We booked tickets with Glacier Adventure, and they were amazing. The tour guide drives you to the trailhead and explains the history behind the landscape as you cross them. After that there is a 20 minute hike one way to the crystal blue cave in Vatnajokull National Park. You will be left spellbound looking at the ice crystal formations.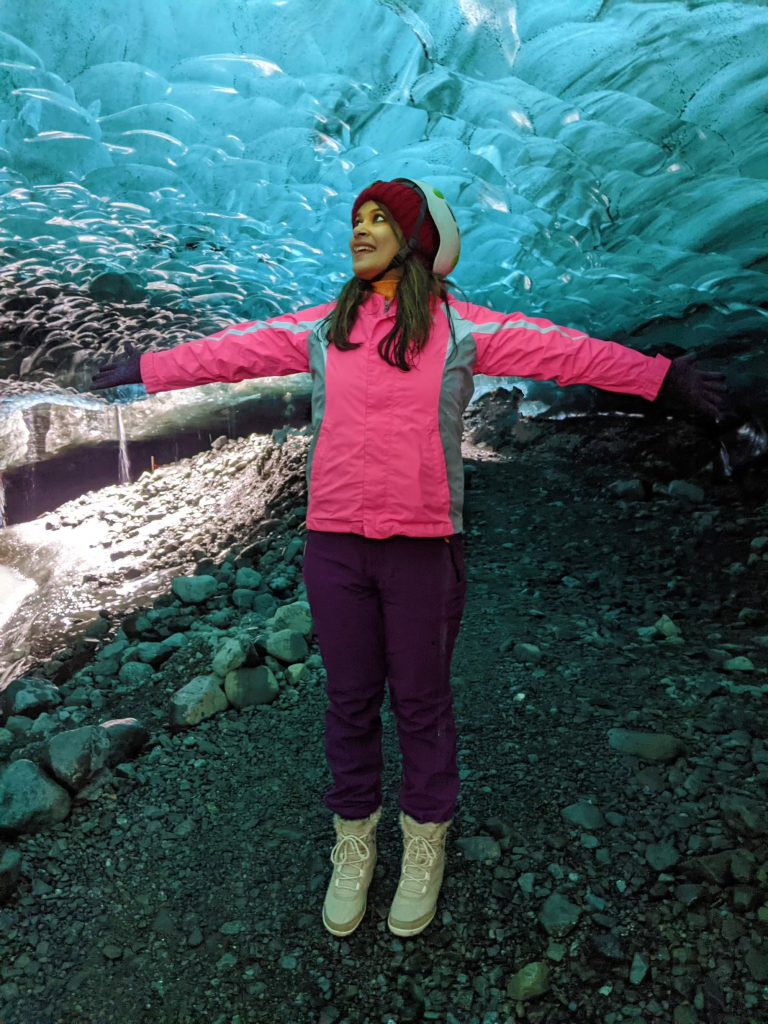 Day 6:
STOP 1: Stokksnes/Vestrahorn
This is a super cool spot, known for having shallow water that showcases an amazing reflection of the mountain. This is on a private property and the entrance fee is about $8 per person. To my Indian audience, I went full Kajol mode from Gerua song at this point.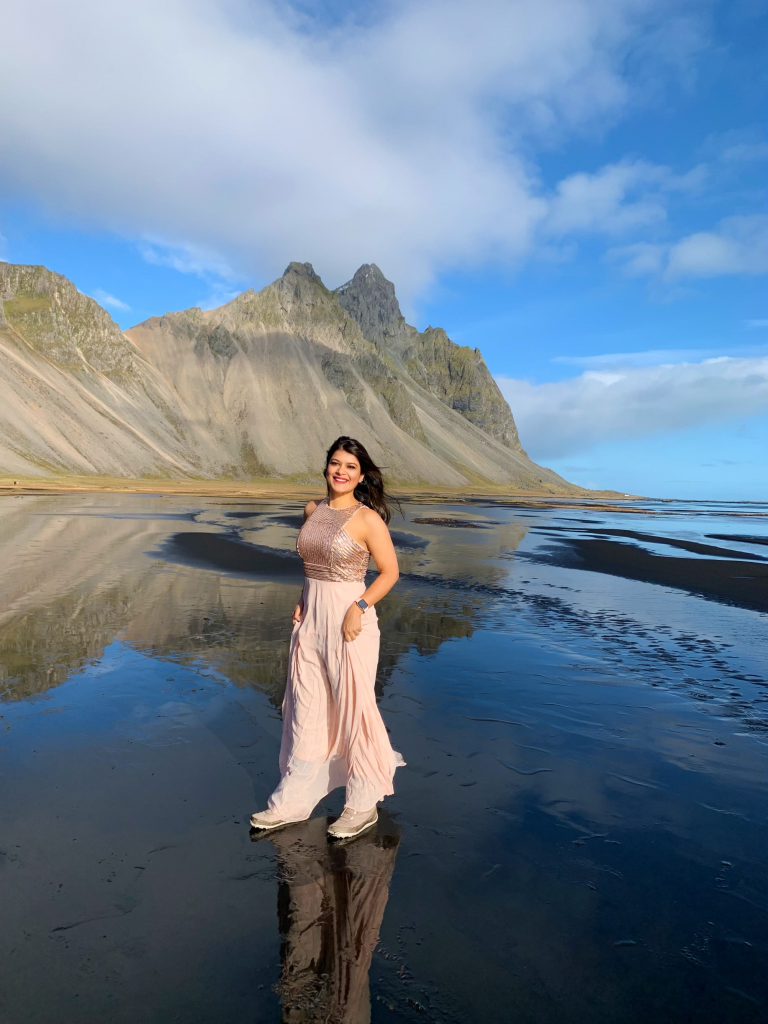 STOP 2 and HOTEL:
We drove about 2.5 hours from Stokksnes to Hotel 1001 Nott. This was my favorite hotel in Iceland as we saw best Aurora lights here. It came and went four times and will be one of the most cherished experiences of my life. The hotel has an amazing hot pool overlooking a beautiful lake. We just relaxed and watched the sunset from the hot pool. The food at the hotel restaurant was amazing too.
Day 7:
Next, we drove toward North about 3 hours. The entire landscape was covered in snow since they had a snowstorm about a couple days before we reached there. I thoroughly enjoyed the winter wonderland. Our four-wheel drive kept us safe and gave an outstanding experience.
STOP 1: Dettifoss and Selfoss (westside)
There is a 2.2 miles round trip walk from the parking lot to Dettifoss. Dettifoss is the most powerful waterfall in Europe. You will feel like an earthquake happening when you are standing very close to it. Add another 0.5 miles and you can hike to Selfoss which is super dramatic too. You can do it from the east or west side. We did west side as the east side trail was closed after the snowstorm.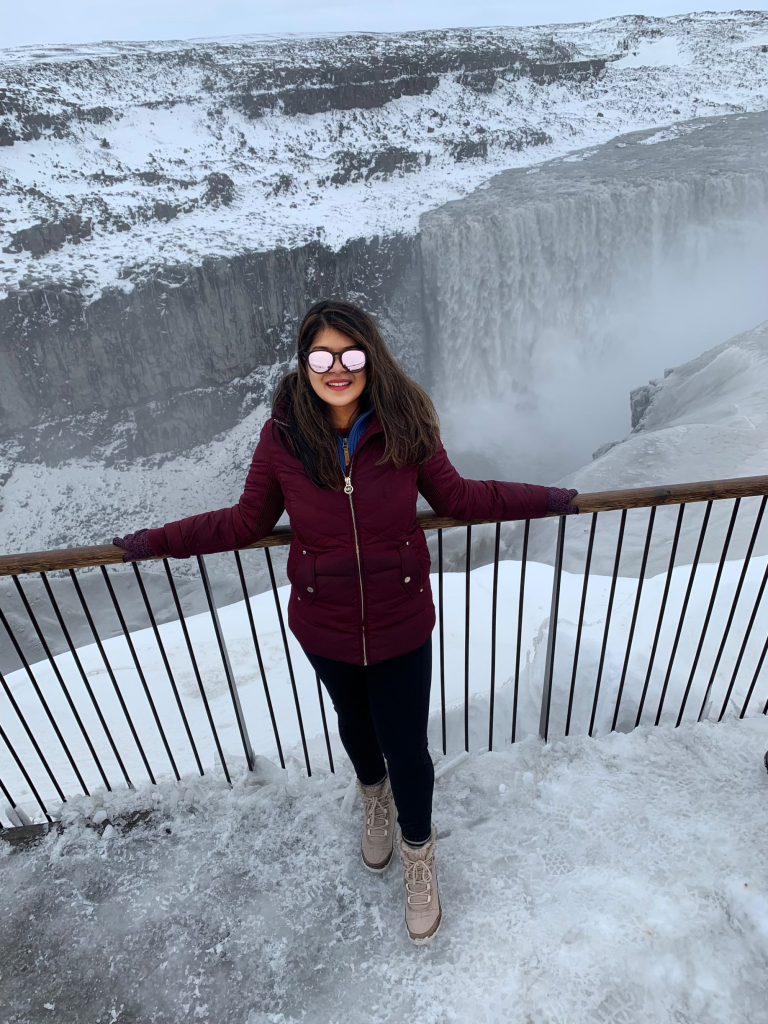 STOP 2: Mývatn Nature Baths
We took our hot baths seriously after every hectic day of hiking and driving. The water at Mývatn contains a unique blend of silica and geothermal microorganisms, which is super beneficial to the skin. It has a sauna too if you needed further cleansing.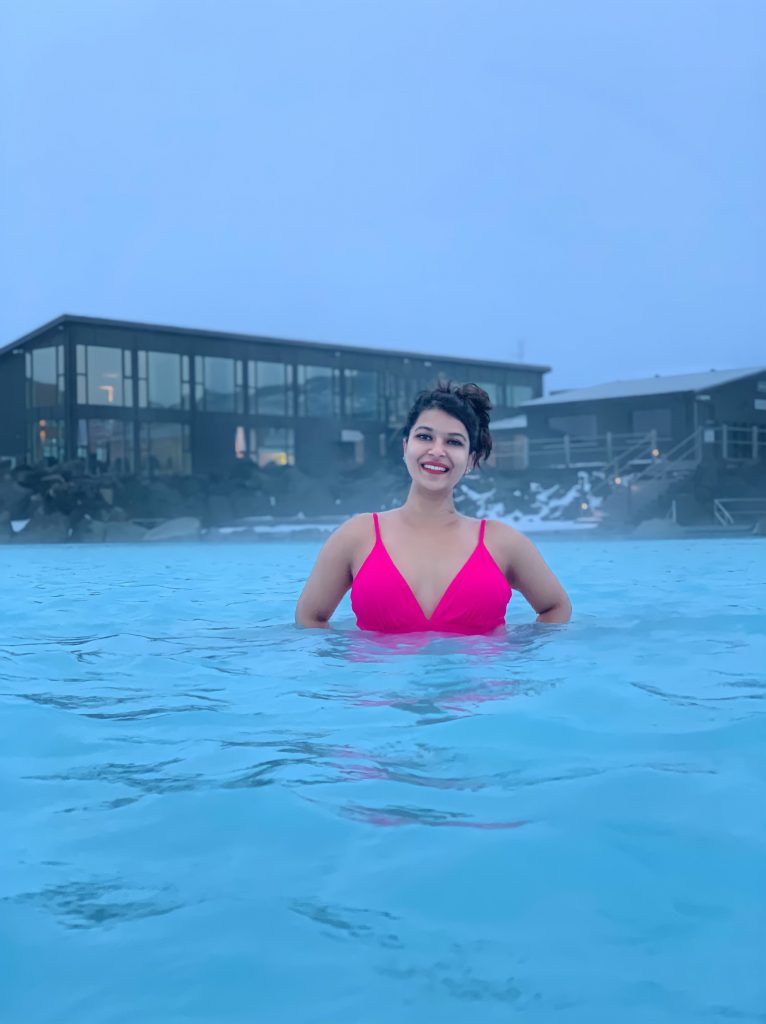 Day 8:
This was our longest day drive. We drove about 5 hours from Akureyri, a super cool town in the North to Kirkjufell.
STOP 1: Kirkjufell
This is the most photographed mountain of Iceland and is also popular because it was featured as the arrowhead mountain in Game of Thrones. It also features two small waterfalls, which makes it even more picturesque.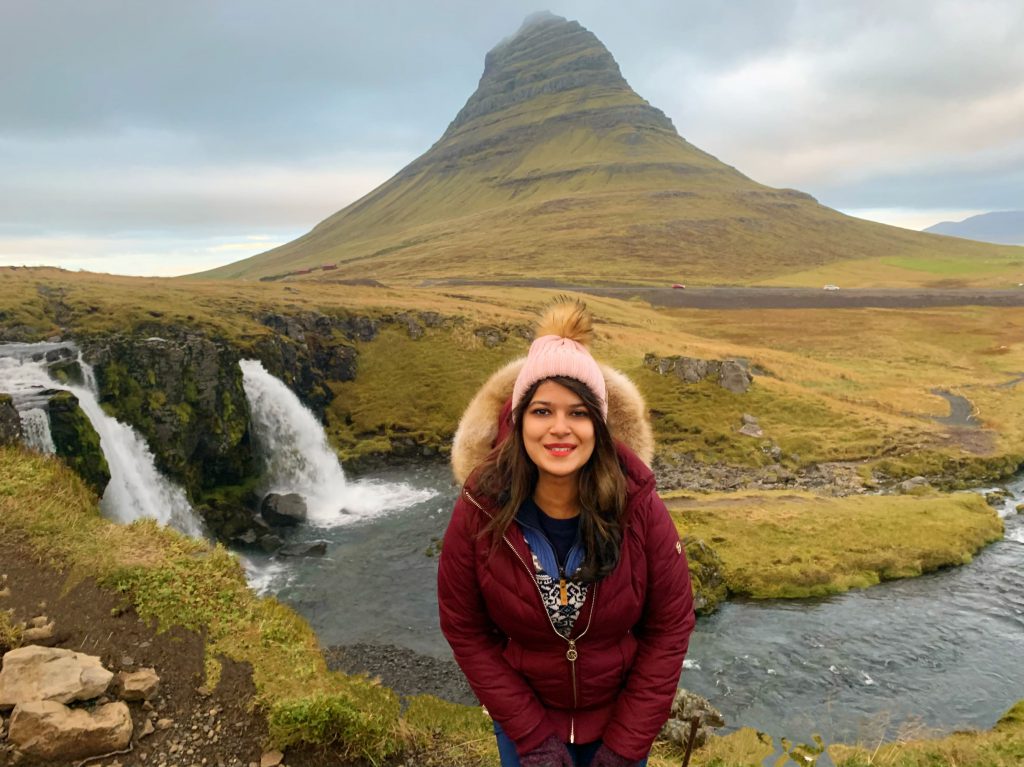 Day 9:
This was our last day to explore. We kept hiking the Fagradalsfjall towards the end hoping it would erupt in the meantime. Bummer! It did not.


STOP 1: Fagradalsfjall Volcano
This volcano started erupting in March 2021 and was erupting for months. It was dormant when we visited, except for some smoke in lava bed fissures. The hike was difficult because it gets super windy here. I mean the wind could almost blow me off (a little exaggeration, but it's very powerful). Take precautions as you hike! Even though it was dormant, we had loads of fun seeing the newly formed lava bed.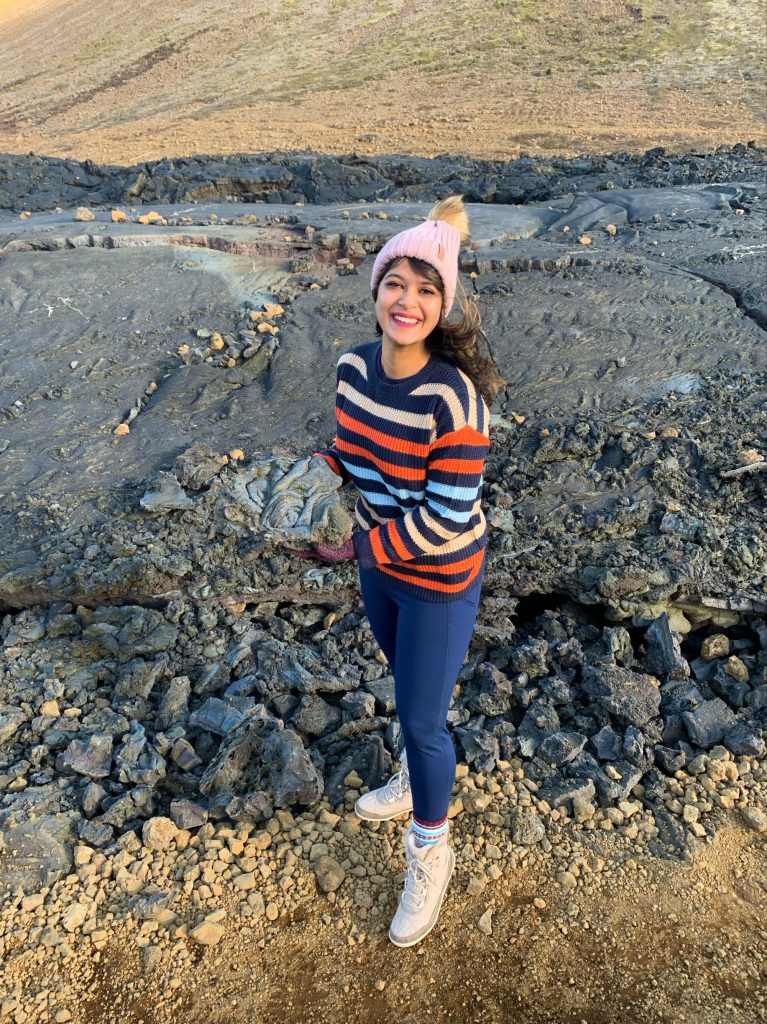 STOP 2: Blue Lagoon
We ended the trip with the most hyped place in Iceland. This blue lagoon is man made but the water gets its color from silica and geothermal microorganisms, amazing for your skin. The basic entry ticket here $70 which includes a towel and a drink. They give you mineral mask for your skin which you can wash off after 10 minutes. If you prefer less touristy places, then you will like Sky Lagoon more like me.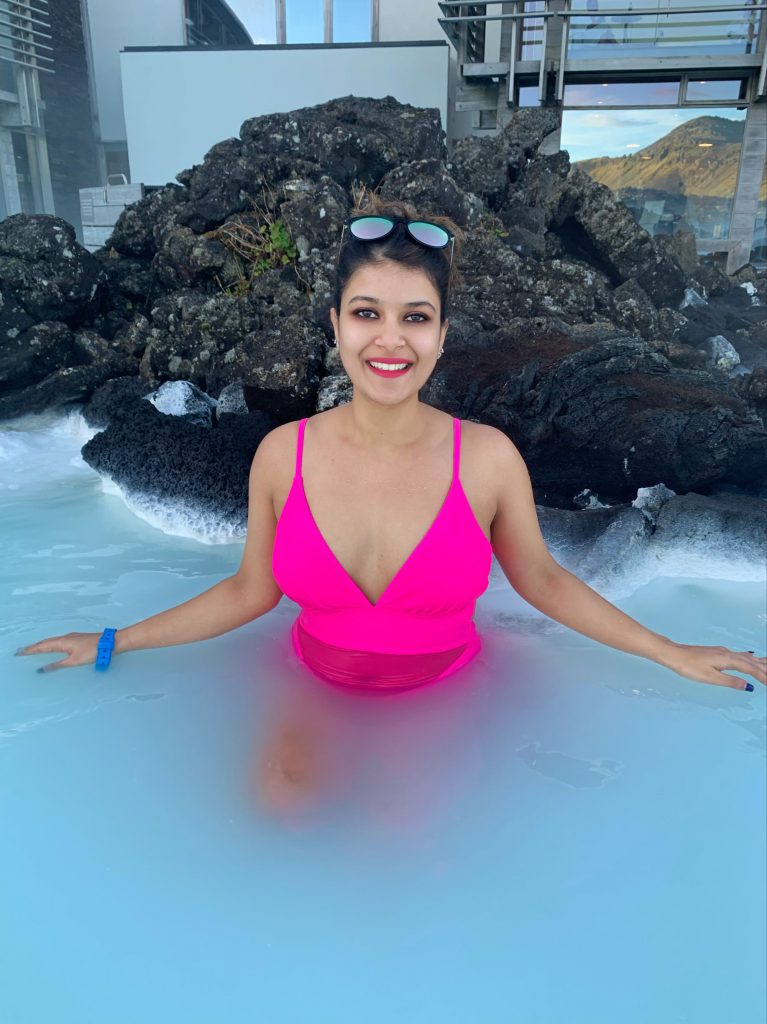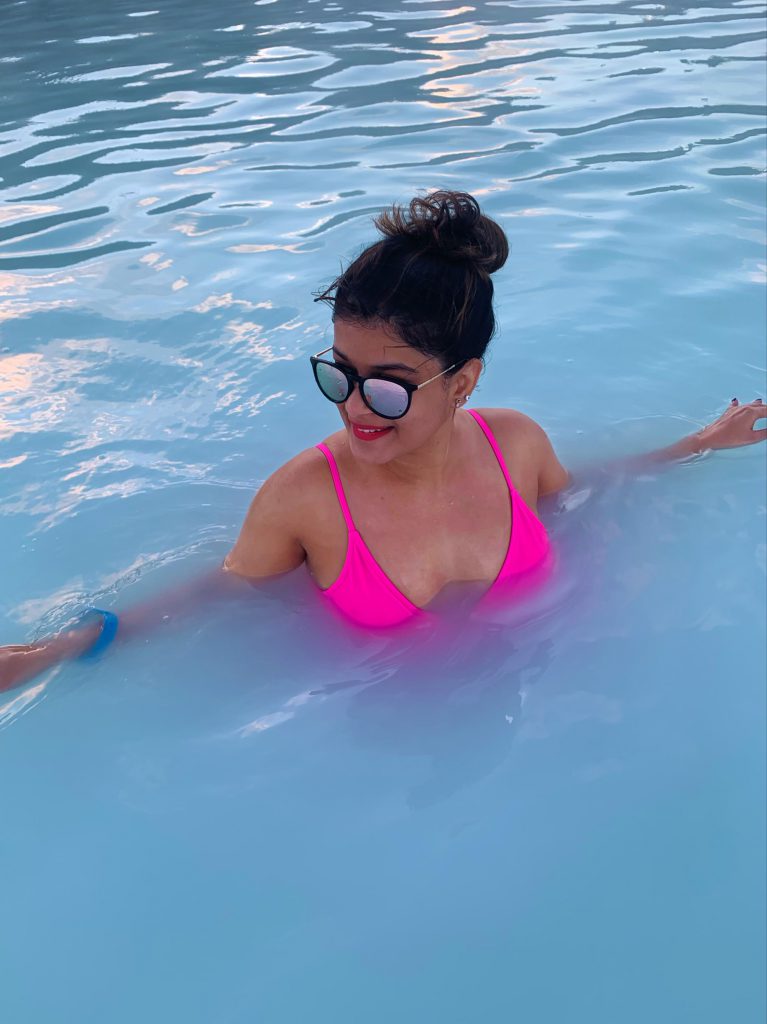 Day 10:
This was again a chill day where we slept in and got an amazing lunch at 101 Reykjavik Street Food. Their lobster soup was exceptional! We then returned our car rental to board our 5PM flight to Seattle.
Northern lights on random nights when the sky was clear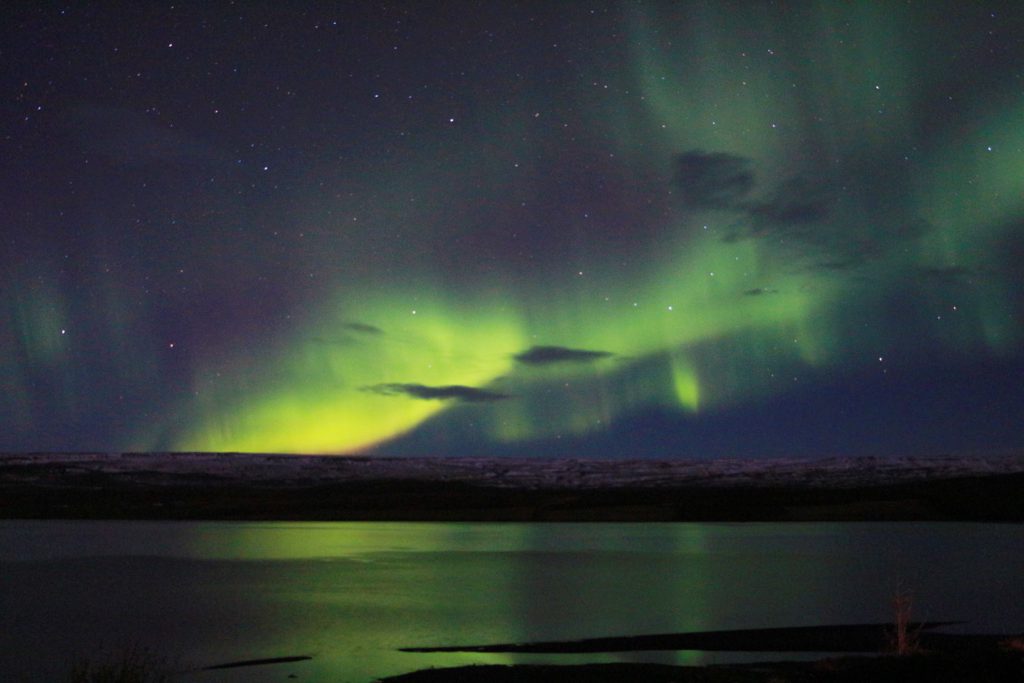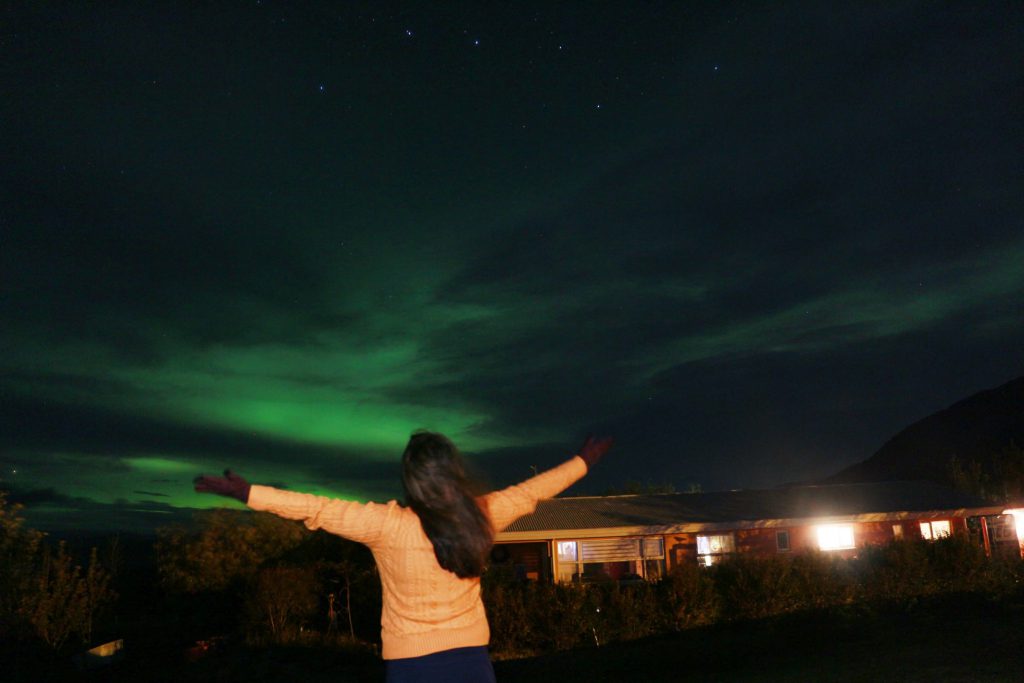 If you have more questions, feel free to follow me on Instagram @discoveringmilestones and checkout my posts and highlights for more details on the Iceland trip. If you want to checkout some drone videos, you can find them on our Discovering Milestones YouTube page.
You May Also Like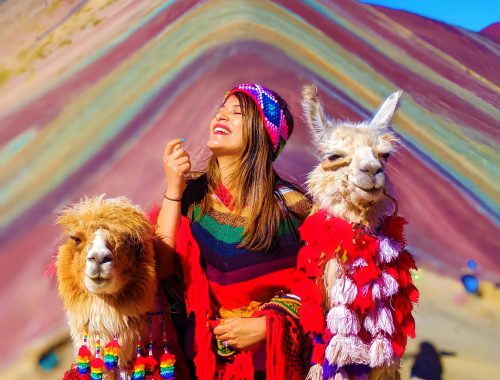 October 11, 2021